Bobbing/Weaving...Recognizing Punches...
---
Hello all! I recently joined MMA training in my area, and like it a lot! I find my ground game to be waaaaaay better then my stand up. For the ppl that have the same problem as me some advice would be really great. When I sparr I seem to get hit to often. I mean I dont get knocked out, but if it was a decesion fight I would def lose. The thing that is hard for me is I am not really good at bobbing and weaving punces and I will admit it. I want to learn so bad how to criqtue this. Does anybody no any drills or things I could do that would better me here? Also, when fighting where are you supposed to be looking to see a punch coming. I heard it was the person shoulders, I dont no if thats true tho. Thanks all!
Training weaving and bobbing is tough. The best way to go about it is using a double end bag if you are by yourself. Hit it and react accordingly and circle around it to get in hits at different angles while constantly moving around, dodging wherever it comes. If you have partners, just tell them throw combos lightly and slowly at you first while you work your defense. It's important to not only just do weaving, but make sure you slip some jabs and block punches too. Just like your offense, you want your defense to be dynamic as well. Over time, your partner should be speeding up, but not adding too much power since it is only practice.

I don't know where to exactly look at to determine if a punch is coming, but I feel like the hips are a good indicator. Any strong punches always start with the hips. Hooks and crosses all require good hip rotation and good footwork. Just continue practicing and continue sparring and you will start improving vastly after a while. Remember, no one starts good in these type of fast paced sports.
---
11th (+27)
Wanderlei SIlva
Rich Franklin
Josh Koscheck
Joachim Hansen
I keep my eyes centered on their torso and let my peripheral vision fill me in on the rest of their body.

Like the guy before me said, probably the best way to do it is just to slow things down to a point where you're able to react. Once you're comfortable there, speed it up.

Some drills...

Get some tennis balls. Hang them randomly in an area that's 5-8ft diameter at varying heights. Get in the middle and start punching. Don't punch hard, just enough to get them swinging - your goal here is to keep all of the balls moving at the same time for as long as you can without any of them hitting you anywhere but your hands. Bob, weave, whatever. This should improve your accuracy and timing as well, and you could try this with bubbles or something instead of tennis balls if you want.
---
"I don't want them to like me, because when I'm in the ring, punches fly to the face. It is not a tenderness time. I am not falling in love. And he knows that when the fight starts I am kicking faces."
- Wanderlei Silva
---
Last edited by Dempsey Roll; 06-06-2008 at

02:52 PM

.
The tennis ball drill dempsey said is a great one in my experience, another one I use that I like, and has payed off, and also helps with your offense, is to tie a length of string(I have mine from one side of the garage to another, its easy to take down and set up), so thats its about the the height you need to duck under to get below a punch. I set a timer for about five minutes and just duck under it with my hands up and every now and then will shoot under it, and try to keep my footwork clean. It also helps with level changes which is a good move to throw your opponent off. If thats not very clear, just shoot me a pm and Ill try to explain it better, hope it helps.
---
I heartily accept the motto, "That government is best which governs least"; and I should like to see it acted up to more rapidly and systematically.
Outta My Head
Join Date: May 2006
Location: Paramount, CA
Posts: 1,220
One thing to think about when you are training defense for stand-up is not getting fixated on having to categorize a specific "defense" for each specific attack. A lot of guys get stuck on "do this for this" in the midst of sparring and get lit up. If you set your mind together to recognize the
angle of attack
instead of the individual technique being used, learning standing defense becomes a bit easier to absorb. More importantly, it becomes easier to do when you are tired and stressed.
With that, a lot of the learning curve associated with learning the Stand-up Game is lessened. In this, plug in the angle of an incoming attack, and find a response that will deal with it accordingly. For instance: A high round-kick to the left side of your head is the same as a hooking punch to the left side of your head as the angle of attack is the same. You don't have to worry about taxing your brain and having to waste a 1000th of a second figuring out what is coming at you, simply react accordingly. I cover a bit of Striking Defense in this old thread, starting at this post
here
.
---
It doesn't matter if you agree or disagree
... As long as I don't bore you and I spark a moment of thought,
my goal is achieved
.
Queng leon queng tigre ecu tacacut, queca pa? - Pampangan Mandarigma Motto

I read a couple of responses to this post and I have a couple of opinions about it. To work on bobbing, something as simple as a speed bag is great. Striking it, then reacting to the movement it makes back toward you. Rhythm is essential in exercises such as these because avoiding hits is all about hand-eye coordination. So I would start out with simple things to build on that lack of coordination you seem to have. It's difficult to suggest a way you should go about training on a speed bag, since there are several alternatives. My best suggestion for technique however, would be to find a video of somesort of a boxer striking a speed bag and try to mimic what he is doing on that piece of equipment. I think doing something like this would be a step in the right direction for you.
At my boxing gym I used to do mit training. The guy would have a thick chest pad and two mits. He would tell me combinations we had named for short and he would occasionally swing randomly and I would have to dodge it or duck it, no blocking. And it was slow at first but it progressively got faster. Then we worked at ducking and following with a over the shoulder quick counter. Practice practice practice.
---
If a law is unjust, a man is not only right to disobey it, he is obligated to do so. ~ Thomas Jefferson
Sig by D.P.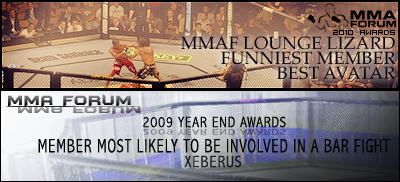 MMA Fanatic
Join Date: Jun 2008
Posts: 25
what i do too improve not only reaction, accuracy, and bobbing and weaving is...
1. get a tennis ball
2. get a knife
3. cut a small hole in the tennis ball
4. get one of those thick screws, and put in the big side in the tennis ball
5. get a nut and put it on the screw
6. tie a string on to the screw, the nut will stop it fromfalling off
7. hang the tennis ball

now hit the tennis ball, keep it swinging dodge couple swings, hit couple swings, and its all good... unless you hit the nut.. ouch, o well it will harden your knuckles
Currently Active Users Viewing This Thread: 1

(0 members and 1 guests)
Posting Rules

You may post new threads

You may post replies

You may not post attachments

You may not edit your posts

---

HTML code is Off

---