Quote:
You sir would be around 70% correct. Savateurs (practitioners of Savate) kick in a more traditional style where the legs are chambered and snapped into their opponents. This is due mostly to the fact that they kick with footwear on, and do not compete barefoot. As a result, the amount of damage that can be done by a pin-point strike from the hardened toe of a savateurs boot can be quite devastating even if it doesn't generate the same gross amount of power in comparison to a full MT Round Kick.
Also, it is possible to generate a great amount of power with a lead kick. Just like a lead hook in comparison to a rear straight/cross, the power is going to be generated primarily in your ability to ballistically torque your body over. The key is being able to pivot quickly and smoothly on your foot. I go into detail on that in this older post
here
. The caveat is that you have to be able to do it explosively as you have less distance for the foot to travel and accelerate. Being able to do so takes a lot of practice.
The other way to create a lot of power off of your lead leg is to perform a quick shuffle or shift-step to momentarily change leads. In essence, the front leg is then "loaded up" and given the similar distance to travel as your rear leg while simultaneously moving your body mass into the direction of your opponent. This is exactly what GSP did to Matt Hughes in their second match.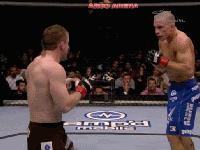 While the second option easier to learn, you have to be able to shift step quickly, or be really good at setting your opponent up (GSP happens to be good at both). If a competent striker watches you load that kick they will either counter your attack with one of their own or get the heck out of dodge. While a great kick in itself, it would not have been anywhere near as effective if GSP had not spent the majority of the time before that softening up Hughes legs with low lead kicks.
good post you can get the same effect as the savat kick if you kick with the ball of your foot.
---
MMA Pics Record
15 - 4 - 1
in kickboxing for a front round kick above the belt step 1) chamber and point youre knee at the taget while you pivot youre support foot 180 degrees from youre target.to keep youre balance you lean the rest of youre body backwards to a point of balance. step 2) release youre chambered shin with youre foot pointed. immediatly after the opponents body absorbs the force move youre foot back down into its previous position or step forward with it or use the momentum of youre boding moving back up into a huge forward force with a big right hand comin up ( this can be a KO punch easily)
Quote:
Ive been watching a lot of GSP's fights lately and ive noticed that he uses his front leg to do a lot of his kicks. These kicks are very effective and harder to see coming then the traditional roundhouse using the back leg. Every time i try to do this kick using my front leg, I loose my balance and my kick is very weak. Have you guys had the same problem?
work a 2 step
hey, i'm a judo/jj guy with a little natural boxing experience, but this forum helped me big time make a pretty good leap in my leg flexibility and especially in my kicks. I can throw good high kicks right in with my combinations now, much funner than skateboarding i've quit completely.

edit: wow, can't believe someone gave me neg rep for this statement.
---
Last edited by The Horticulturist; 04-28-2009 at

01:00 AM

.
What a lot of people forget when they want GSP to fight Anderson Silva is that Anderson Silva trained and is good friends with Lyoto Machida. Machida's Karate > GSP's Karate. Hughes dropped to scoop that kick for a takedown. Anderson would snag it and rock GSP's face with a counter punch. Front roundhouse is an invitation to get taken down. The 45 degree chamber can help you as it is difficult to predict where the kick will end up and should improve the use of the technique.
Currently Active Users Viewing This Thread: 1

(0 members and 1 guests)
Posting Rules

You may post new threads

You may post replies

You may not post attachments

You may not edit your posts

---

HTML code is Off

---