Right upper cut
---
Is a right upper cut a good counter move for a overhand right. Seems like this would be a really really good idea. When Cuck liddel fought reshada, I do not think it worked because his timing was off, what do you guys think?
Generally I'd say no, but if you can make it work for you more power to you. Typically you'll hear that to counter the overhand right, you should lean right and go with an uppercut/shovel to his chin, but I don't ever fight on the inside without the other person being hurt/dazed/covering up.

Most people telegraph their over hand rights. So I tend to move out of the way or I throw a straight right with my left hand up. I do that because all things aside my straight should be faster than his overhand unless he totally has the jump on me in which case im on damage control so I need to block or evade it.

In kickboxing the over hand right became one of my favorites. people like to kick in kickboxing, and I happen to be great at cutting the kick off and landing the overhand right as a counter to the kick.
---
If a law is unjust, a man is not only right to disobey it, he is obligated to do so. ~ Thomas Jefferson
Sig by D.P.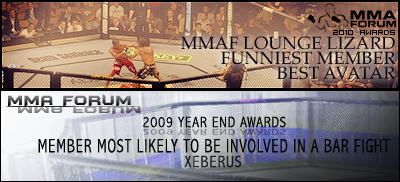 This is exactly how Chuck got knocked out during his last losses. Honesly, if you were practicing with someone coming at you with an overhand right, I would practice getting a block up with your left, slight shift right, with a right cross.
---
It was a hook that KO'd Chuck, not an overhand right. Rashad just got it off first.
---
NYBA Champ @ 170!
BEST EVA!
Banned
Join Date: Dec 2008
Location: US
Posts: 13
the overhand is a counter. you throw the overhand as a counter punch. otherwise its a cross or straight.
No way, you are mistaken that was an overhand right. Look at the fight again, im sure of it.
Currently Active Users Viewing This Thread: 1

(0 members and 1 guests)
Posting Rules

You may post new threads

You may post replies

You may not post attachments

You may not edit your posts

---

HTML code is Off

---