Need a good heavy bag
---
hey guys, I'm new to kickboxing and im looking for a heavy bag thats good for me. I'm 6'5 with extrmemly long limbs so i want something that I can throw low kicks but will still be tall enough. Any advice willl help.
---
"He really needs to take advantage of this advantage."

"Anderson Silva's precision is very precise."

"The one thing consist about Randy Couture is his consistancy."

-Mike Goldberg
MMA Fanatic
Join Date: Jan 2009
Posts: 9
Twins make some evil heavy bags
www.twinsspecial.com
The HBS bag will definately be tall enough for you and is the hardest bag I have ever had the misfortune to train on.
Well the best and highest quality bag is swinging between my legs.

Seriously I have this cheapo century 100lb and it would probably do the trick, but being 6'5 you're a ******* tall guy. I dunno look around at some local stores imo
---
If a law is unjust, a man is not only right to disobey it, he is obligated to do so. ~ Thomas Jefferson
Sig by D.P.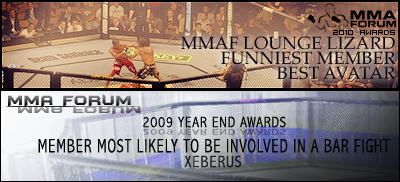 Try to watch the local papers and stuff if you are on a budget. I got a killer deal on 3 heavy bags for 80 bucks cause this guy just wanted em out of his house, he hadnt used them in years and they were all in great shape. Every now and then I will stop in at yard sales and stuff and find deals on weights and other training equipment too.
---
Fav quotes:
Quote:
His KO of Babalu was pretty rough, too. He knocked him so silly he tried to grapple Big John.
Quote:
Originally Posted by XPEHBAM, Feb 18 08 : 8:27pm
I truly think Tank not only veteran of the UFC .. but also.. KFC...
Currently Active Users Viewing This Thread: 1

(0 members and 1 guests)
Posting Rules

You may post new threads

You may post replies

You may not post attachments

You may not edit your posts

---

HTML code is Off

---