Thai boxing gloves vs. regular boxing gloves
---
is there a difference?
i have a pair of boxing ones but idk if there is something different in the muay thai ones, because i'm getting my girlfriend a pair of everlast ones
MMA Fanatic
Join Date: Mar 2008
Posts: 7
the only real difference i know is that the velcro cuff on a thai glove is normally shorter than on a standard boxing glove.
You know I could be wrong, but the difference is 16ounce boxing gloves and 10ounce kickboxing gloves.

16ounces I rock you and can break your nose. 10ounces I knock you out and you lose a tooth :P
---
If a law is unjust, a man is not only right to disobey it, he is obligated to do so. ~ Thomas Jefferson
Sig by D.P.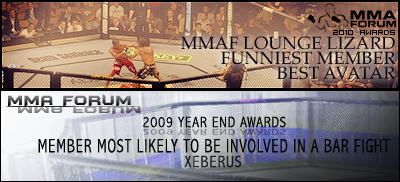 Quote:
is there a difference?
i have a pair of boxing ones but idk if there is something different in the muay thai ones, because i'm getting my girlfriend a pair of everlast ones
there the same.....
theres 100 different types of boxing gloves, some are lace up some are velco 1 and 2 strap, some are roll ups, others just one piece. but at the end of they day their used in both sports, competition is usually with laces.
---
Visit my website GrapplerWalt.com
Get updates on my up coming events

Enjoy a choke!
Currently Active Users Viewing This Thread: 1

(0 members and 1 guests)
Posting Rules

You may post new threads

You may post replies

You may not post attachments

You may not edit your posts

---

HTML code is Off

---