MMA Fanatic
Join Date: Apr 2009
Posts: 3
So you want to train in Thailand?
---
Hey MMA Forum,
I run
Fighting Farang (c) (www.fightingfarang.com)
and have been training Muay Thai in Phuket,Thailand for some time now. I will be making a permanent move to Phuket this May and will be training and fighting MMA and Muay Thai out of Tiger Muay Thai over the next few years.
I have noticed an increasing interest in people wanting to train in Thailand but there is no definitive source on helping people make personalized decisions. Everyone doesn't have the same budget, same goals or even same comfort level as everyone else and I understand that.
Fightingfarang.com has set up a help-line email address of sorts, where you can email any questions you may have about Thailand and we will take as much time as necessary to help you plan every painstaking detail of your journey to the homeland of Muay Thai...
FOR FREE!
We're not in it for the money, nor do we have a loyalty to one particular gym in Thailand...we're willing to help each and everyone who wants to take their fight game to the next level!
Email us your questions and feedback at
ask@fightingfarang.com
.All emails and questions will be answered Don't hesitate even if you think you're questions are silly, chances are we've all wondered about them at some time or the other.

Thank you and good luck training!
Why for some strange reason do I feel there is a legitimate reason to worry about waking up in a bath tub of ice a kidney or two short or having my genitals made into wind chimes?

Would love to check out Thailand, but I'd even prefer to go to Holland. As much as I hate those ******* dutch, their kickboxing is truly balling.
---
If a law is unjust, a man is not only right to disobey it, he is obligated to do so. ~ Thomas Jefferson
Sig by D.P.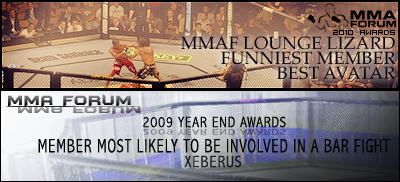 MMA Fanatic
Join Date: Apr 2009
Posts: 3
Haha bro. Holland has amazing kickboxing.

For the record though, the likelihood of that happeneing to you in Thailand is only slightly higher than in North America.
How exactly do you pronounce Phuket?
---
"He really needs to take advantage of this advantage."

"Anderson Silva's precision is very precise."

"The one thing consist about Randy Couture is his consistancy."

-Mike Goldberg
MMA Fanatic
Join Date: Apr 2009
Posts: 3
iv just come back from training in phuket, it is awsome training there the climet just makes it so much harder there. deckalon trained me he holds the belt there atm
Invictus Maneo
Join Date: Sep 2009
Location: Boston, MA
Posts: 983
I would love to go to Thailand to train, I checked out Tiger Muay Thai's site awhile ago and it seems pretty reasonable to go over there and train... I think my only problem is getting the time off from work and being able to afford a plane ticket.
Bantamweight
Join Date: Apr 2007
Posts: 540
I am training here also currently, send me a PM if you have any questons.
HeadlessNorseman?
Join Date: Oct 2008
Posts: 131
I want to goto tiger muay thai this coming summer. i have to get my passport soon!!!
Currently Active Users Viewing This Thread: 1

(0 members and 1 guests)
Posting Rules

You may post new threads

You may post replies

You may not post attachments

You may not edit your posts

---

HTML code is Off

---