Quote:
I wander, would you have a easier or harder time knocking someone out if they are heavy or light?
no difference..
theres more knock outs at heavy weight cuz the guys are bigger and stronger.
lets say it takes 200 ibs of force to k.o. someone, well obviously the heavy weights are ganna be more likely to do that.
---
Visit my website GrapplerWalt.com
Get updates on my up coming events

Enjoy a choke!
Quote:
If you have a big head (Tito ortiz),then it will be hard to get KOED,if you got a skinny head (GSP),it will be easier to get KOED
No, didn't I say before I have a big noggin but I have been knocked out plenty of times? Size of the head has nothing to do with whether you'd be KOed or not.
Quote:
I wander, would you have a easier or harder time knocking someone out if they are heavy or light?
Bah?
---


Join Date: Oct 2006
Location: Wa
Posts: 2,550
To me, you cant train yourself to take a punch. You either have it or you don't. Sure you can train to roll with a punch, but when you get hit blind sided, some people can take that while others will pass out. Just like some people have higher pain thresholds.
MMA Fanatic
Join Date: May 2009
Posts: 12
From my experience it has a lot to do with where you get hit. If you take a dozen hits to the face, you still move around, dazed, but standing. Take a well aimed blow to the chin or a clean shot to the temple and bang, good night. Size doesn't realy matter with knockouts. But you can sure as hell take more punches to safe zones if you have a more robust head. The chin is a nerve plexus, just like the solar plexus. Doesn't matter how strong you are, how big your head is. A shock to the nerves takes out the trash. Whereas the temple is the thinest bone of the skull, massive trauma there (kicks, elbows) is almost identical to hitting the brain itself. The reaction is almost instantenous lights out. These shocks can range from falling to the ground like a rock just to hop on your feet 5 seconds later, to complete and total loss of consciousness.

Of course this is only the applied science part and ppl are welcome to disagree, but if you want hard proof just browse around for videos. Karate, mma, tae-kwon-do, boxing, and observe the k.o. Unless the dude collapses from fatigue its always a hit to the temple, the chin or the solar plexus.
MMA Fanatic
Join Date: May 2009
Location: Kansas
Posts: 78
Wanderla Silva!

Small head, Big Neck.

Ate a shit load of chucks punches last fight they had and was never knocked out.
in my experience, its about staying clm and not tensing your neck as much, you get knocked out when your brain bounces in your head and its bruised.. so im thinking if you roll more naturally it should be better.
---
http://elitemmagym.com/
<check this out. i go here, awsome staff. also if your in southern california come bye for a free class
MMA Fanatic
Join Date: May 2009
Location: Tennessee
Posts: 43
The ability to take a punch is mostly mental. If you go in a fight not expecting to get hit, a punch is going to suprise you and lower self esteem wich leads to you getting pounded. A punch delivers pain, but what is pain? Pain is nothing but your body telling your mind what just happened. Push past it and train harder
---
"I fear not the man who has practiced 10,000 kicks once, but I fear the man who has practiced one kick 10,000 times."

-Bruce Lee
imo its up to debate.

my opinion that yes, physical size and biology is the biggest factor in how good a persons chin is. in my experience keeping your eyes open can help somewhat, now i know it sounds ridiculous but hear me out. you get hit your sense of balance is gone from your inner ear, its a scary feeling but if you see where you are that split second you can allows you to catch your footing instead of falling. who knows maybe im wrong, just in my experience.

the factors you can control are where and how hard you get hit, blocking/ducking/dodging/weaving or even choosing to take it right on the forehead. hardest punch ive ever taken i took right on the forehead, didnt even knock me down.

also ur footwork is what determines how hard you are hit, unless ur moving into their power your movements make you harder to hit and when you get hit its more likely to be glancing and less damaging
---
If a law is unjust, a man is not only right to disobey it, he is obligated to do so. ~ Thomas Jefferson
Sig by D.P.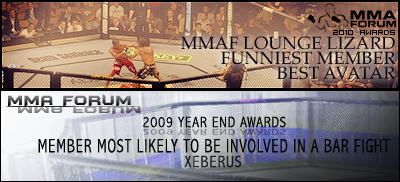 There are to many factors that can determine this.. Everyone is differnt but the idea of not wanting to get KTFO is the same. You have to find what works for you. I think development at a early age helps with defining your chin. Im not saying beat the shit out of ur kid and he will have a iron chin. But I am saying the more he is exposed to ruff sports and so on will help in the long run.. Also natural pain tolerance helps to..

Like with me Ive broken 17 bones and had reconstructive knee surgery and so on.. I have a high tolerance to pain. When I was like 7 I snapped my chin into and it stabbed through my leg. More then anything it scared me being a kid but once I was in my moms car and she told me to shut up I jus looked at it and poked at it.. lol. WHen I get punched I dont really feel it in a negative way.. Im not saying I can't get knocked out cause thats not the truth I fell 6 feet once onto my head and was knocked out for like 30 seconds. . Some people can take pain better then others from personal experience ,natural ability and conditoning of there body. All in all anyone can get kocked out its jus the ability to be able to mentally muscle through that. Which in all isnt really a good thing at all.. You need a natural on and off switch so in certain sito's you do not recieve brain damage.
---
Amatuer
Join Date: Jul 2007
Posts: 129
Once a small fridge fell on top of the back of my head and smashed my face into the floor, ive also been hit hard enough to fly off my feet and onto my ass, skidding.. but ive never been KO'd and i have a pretty small head, so i wouldnt worry about it until u actually test ur chin
Currently Active Users Viewing This Thread: 1

(0 members and 1 guests)
Posting Rules

You may post new threads

You may post replies

You may not post attachments

You may not edit your posts

---

HTML code is Off

---