I kept getting hit
---
So today some of my friends and I decided to box and I went against a kid my height [I have no boxing experience]. I tried to keep good form and I got a few shots to hit but then I kept getting the shit jabbed out of me and I went into Chris Leben mode. I basically waded my way in pretty good and started throwing haymakers. I actually got my kid good with one but again I kept getting jabbed. So my question is how do I avoid getting jabbed, how do I hit my opponent when he keeps leaning back, and also I think I somewhat like to bob and weave [or my crappy attempt at it] so what would be some good things to learn. After my post-wrestling season I'm going to start boxing so any tips would be appreciated.
Take boxing lessons! That would be a start.
"Leak Bros"
Join Date: May 2007
Location: Grand Rapids, Michigan
Posts: 343
Make sure you move! Don't be Chris Leben and just stand there lol. Its all about foot and head movement. Make him guess where your going to be.
---
Favorite Fighters: Fedor, Karo Parisyan, Nate Marquardt, Demian Maia and now Jon Jones

keep moving, move your head, keep ur gloves up

if he keeps leaning back, hit the body.
---
"Only a warrior can choose pacifism, others are condemned to it."
Bantamweight
Join Date: Jan 2008
Posts: 512
wait your a wrestler who gets punched in the face alot when he tries to exchange. Jake Rosholt is that you?
Keep your guard up and block. His jab won't matter then. With a jab you push in and out so you're always in/out/in/out of range. If you wanna close the distance just remember to push off of your back foot and slide into range. Keep your knees bent and your back heel off the floor, that'll help you glide about more.
---
NYBA Champ @ 170!
BEST EVA!
Featherweight
Join Date: Apr 2007
Location: Germany
Posts: 1,461
Jab back
---
FightingIsBelieving

Nichts reimt sich auf Uschi!
Nothing rhymes on Uschi!

Wer ist hier noch Deutscher ausser mir?
hit the body
---
"He really needs to take advantage of this advantage."

"Anderson Silva's precision is very precise."

"The one thing consist about Randy Couture is his consistancy."

-Mike Goldberg
Lol at the Rosholt comment, but thanks guys I'll try next time we do it. I'm looking into the whole boxing thing deeper, so it should be all good.
Well since he is your friend I'd say keep your hands up, every time he jabs block with your glove. I've got to be honest if someone is just "jabbing" over and over I like to dodge the jab and counter with a huge left hook right hook. Especially if you keep blocking his jab over and over cause he won't be ready for the two huge power shots heading his way since he thinks you're going to block. Now not a lot of other boxers would tell you to do that, but I'd do it so. :P

What everyone will tell you is that when he jabs like that all hes doing is giving you a chance to counter, and almost everyone who says that will also say that you should counter punch to the body or what your going to want to do is block his left jab with your right hand and simultaneously throw your own jab, but if you're quick you should throw a 1-2.

But also you can slip it instead of block it. Slip it to the outside of his left, thus protecting you from his right hand and allowing you to throw a right hand although not as simultaneously as the block and 1-2.

you know actually if you like your left hand you could slip his jab and right hand and left hook.

Hey these last 3 things are what they would tell you to do at a gym, but you gotta be fast to do any of them. no waiting a second or so, just doing it BOOM BOOM BOOM :P
---
If a law is unjust, a man is not only right to disobey it, he is obligated to do so. ~ Thomas Jefferson
Sig by D.P.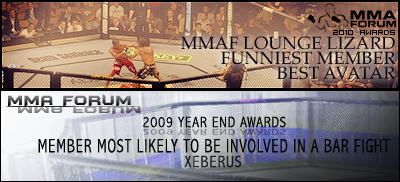 ---
Last edited by xeberus; 02-20-2009 at

01:33 AM

.
Currently Active Users Viewing This Thread: 1

(0 members and 1 guests)
Posting Rules

You may post new threads

You may post replies

You may not post attachments

You may not edit your posts

---

HTML code is Off

---