Curitiba Food and Liquor

Join Date: Dec 2006
Location: NY
Posts: 16,176
Quote:
Never under estimate the **** punch.
I don't.
---

Sig Credit to Toxic

Quote:
Like this.
That is terrible. x.x
I would kill myself before I let someone pull that on me..
I do practice groin shots, just something out of habit I learned when I was young in martial arts.
Megaweight

Join Date: Oct 2007
Posts: 5,909
Do you practice "cheap shots"?
---
Thread restored
Yeah I'm all about some attacks to the groin, throat, and eyes. Obviously these should only be used as a last resort to defend yourself from an armed opponent or overwhelming odds. That being said, if you don't practice these attacks you're being a little naive about what others are capable of...
Recently ive been practicing quick groin kick uppercut. lol just for fun
---
If a law is unjust, a man is not only right to disobey it, he is obligated to do so. ~ Thomas Jefferson
Sig by D.P.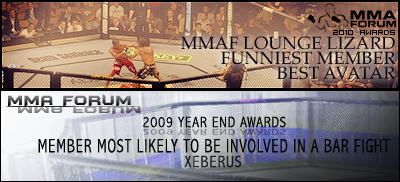 Of course, I always go for $2 shot night. Jewish and all that.
---

Quote:
Of course, I always go for $2 shot night. Jewish and all that.
are you an israely commando?
Quote:
are you an israely commando?
Yeah, don't **** with me...I'll fire bomb your children and all that.
No, but I am a Jew face.
---

Join Date: Oct 2009
Location: Ohio
Posts: 2,719
Never practiced one. But considered using one more than once. Never actually have. Last ditch maneauver to save my ass and whatnot.
Banned
Join Date: Aug 2007
Location: banned
Posts: 0
On the street yes i would use whatever so yes I practice them, however you are not encouraged in Karate...

However, if buddy is 6'2 220 Im goin 4 knuckles to the adams apple and then groin.....try it when your in a jam....if you hit them right all their attention will be immeiately focused on breathing only.....
Currently Active Users Viewing This Thread: 1

(0 members and 1 guests)
Posting Rules

You may post new threads

You may post replies

You may not post attachments

You may not edit your posts

---

HTML code is Off

---