Quote:
Originally Posted by Onganju
When your opponent outweighs you by over 100lbs, size becomes a factor no matter what you are doing. Technique (whether it be wrestling or BJJ technique) will help, but that's not to say one will have a better or easier time than the other.

To the OP, if it's a "fight" it doesn't matter if a guy is smaller than me (although that's extremely rare considering my physical stature) I'm not big on fighting someone. But if it's sparring, I normally spar with guys who outweigh me by 30 to 60lbs. What I can suggest (because it sounds like you have the stand-up part down well enough) is to try to stay out from underneath the guy as his weight and size will become even more obvious.

The other thing is to avoid being completely flat on your back. When you are working on the ground under the guy, go for small advances in position (BJJ/submission wrestling comes down to a battle of inches) and try to squirm out from underneath by bridging, shrimping, or climbing onto their back by using underhooks. IF (and that's a big if) you get the guy down, their size will be nuetralized in that position. Go to work from there and move at a constant pace (this will get the big guy gassing).

Good luck.
See Genki Sudo Vs Butterbean
International Stalker
Join Date: Nov 2006
Location: San Diego
Posts: 5,203
Quote:
Originally Posted by pauly_j
See Genki Sudo Vs Butterbean
Whats your point? The speed and skill difference was so big it overcame with the enormous size difference.
---
Credit to ThaMuffinMan
Quote:
Originally Posted by Kin
I think that your best bet would simply be to start training in some groundwork. I mean, as someone else said, size is a factor no matter what. However, technique can prevail against it.

The biggest disparity in weight I've ever had to deal with was around 120 pounds. While I could not submit the guy, I at least was able to control position. Mind you, he wasn't particularly skilled in groundfighting (nor am I), but technique is the only reason I could do that. if I was completely oblivious to ground stuff, there'd be no way to do it...
Yea, im going to try this MMA gym about 30min from where I live. I just hate lifting weights so I can be better at lifting weights, in the same way practicing grappling because in a real fight I wouldnt use it. But in that one sparring session thats few and far between where I fight a guy with 120lbs on me that catches me off guard it would be nice to know :P
---
If a law is unjust, a man is not only right to disobey it, he is obligated to do so. ~ Thomas Jefferson
Sig by D.P.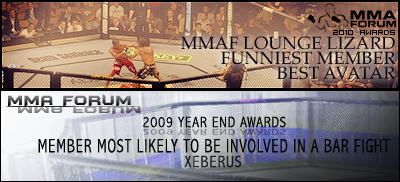 Outta My Head
Join Date: May 2006
Location: Paramount, CA
Posts: 1,220
Quote:
Originally Posted by pauly_j
See Genki Sudo Vs Butterbean
Where in my post did I say it was "impossible" to overcome a size difference? Besides, the difference in skill created a huge disparity between the two. I simply stated (very plainly) that grappling technique, regardless of it being wrestling or BJJ, would help deal with the size difference.
I didn't think it was possible to take my comment out of context.
---
It doesn't matter if you agree or disagree
... As long as I don't bore you and I spark a moment of thought,
my goal is achieved
.
Queng leon queng tigre ecu tacacut, queca pa? - Pampangan Mandarigma Motto

Megaweight

Join Date: Oct 2007
Posts: 5,909
When to walk away.
---
Thread restored
Join Date: Oct 2009
Location: Ohio
Posts: 2,719
With such a tremendous weight difference it really didn't matter how good you were skill-wise. It wouldn't have made too much difference.

Unless you managed to roll your hips up and back, and get him to put his weight on your lower abdomen and lock your torso and hips while pushing up and back. Similar to a standing triangle-choke, but lying down. With him in that position you could at least push him up and back and land a few punches from your back.

I've found personally that the natural tendancy is to "turtle-up" as my sparring partner and I call it. And just toss up the old boxing guard and wait for position opportunities, but with a mofo that size position doesn't mean very much and gaining it was probably impossible. Unless you could muscle a bastard that size easily... But I'm doubting that.
MMA Fanatic
Join Date: Jul 2008
Posts: 64
I have one different observation. If you are a boxer with good stand up I think your best bet is to try and stay standing with a bigger opponent. My logic is this, it is easier to K.O. a big opponent than to squirm out from under him. As a boxer your head movement, defense, and cardio are your best weapons. Make him chase you, make him punch make him tired, then try to turn his face into hamburger. Not saying you should ignore your bjj, if he is any good he can and will get you on the ground but I think you would be best to try and get back standing instead of trying for a submission. But if an armbar is there by all means take it and go home with it. But in the words of my lead trainer and cornerman, "You got good hands, trust them."
---
Boo! fight with Honor!
favorite fighters...
1.anderson silva
2.Sherrod Davis
3.Tony Jayme
4.Thad Schlichter
5.rampage jackson
Quote:
I just hate lifting weights so I can be better at lifting weights, in the same way practicing grappling because in a real fight I wouldnt use it.
In a real fight when a dude tackles your ass and starts pounding you on the ground, you will wish you knew how the heck to get out of it.
It doesn't matter what you would use. Its what you CAN use in a real fight.
If nothing else, take up wrestling or some other grappling to stop from being put on the ground. Boxing doesnt teach take down defense.
As for when to talk away from a fight, any chance you get.
the best example is watch the Brenden and Marcus fight on TUF 10. With a bigger guy you have to keep moving your hips keep him off balance. Its really hard to get a bigger guy off you especialy if your not comfortable on your back ...excample Kimbo vs Roy.... But just like Boxing you cant just jump in the ring and throw hands you have to have some sort of training ..the same goes for the ground you have to work with it
lol "my cousin" hehe.

about 2 years ago i was 145 5'9..


Old thread is old, I'm now 5'9 165. Size is a huge deal, I've been in kickboxing these past two years so I know a lot more about matching up to sizes.

If you have to fight someone bigger than yourself, bum rush with quick power punches. If that fails keep your distance and counter strike, groin kicks and anything you can use to your advantage is also nice. But anyone with hands down can easily be KOed with 2-3 well placed punches.
---
If a law is unjust, a man is not only right to disobey it, he is obligated to do so. ~ Thomas Jefferson
Sig by D.P.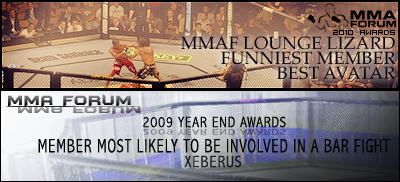 Currently Active Users Viewing This Thread: 1

(0 members and 1 guests)
Posting Rules

You may post new threads

You may post replies

You may not post attachments

You may not edit your posts

---

HTML code is Off

---