Quote:
By turn it over, what exactly do you mean?

And Coldcall, thats not really an option since most effective punches are thrown to the head. I know I have to punch with those knuckles but because my finger sticks out sort of I can't connect with a straight wrist
Okay when your guard is up your thumbs are pointing towards/semi towards your face? Yet when you jab/straight punch they will be pointing either left or right? On the way to making contact you turn your fist to get that last bit of pop out of it.
You
ALWAYS
want to hit with index/middle finger knuckle. They can take a ton more abuse and break a lot less, trust me I've found this out the hard way. (its what every boxing guy will tell you, and they are right on the money)
As far as your wrist goes, straight. I'd really need to be like next to you to show you what straight is for you. But if its not straight your going to hurt your wrist/hand.
---
If a law is unjust, a man is not only right to disobey it, he is obligated to do so. ~ Thomas Jefferson
Sig by D.P.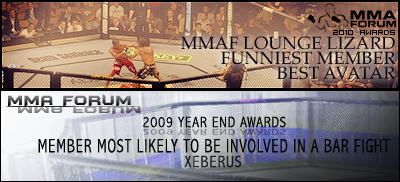 Currently Active Users Viewing This Thread: 1

(0 members and 1 guests)
Posting Rules

You may post new threads

You may post replies

You may not post attachments

You may not edit your posts

---

HTML code is Off

---