Quote:
Isnt it just some animal instinct in us? I mean even before I did martial sports, everytime I see a guy coming towards me I think if i can take him out or not.
It might be, I've been in boxing/kickboxing since I was 12 so im not sure.
Quote:
im constantly sizing everyone up however i dont get too many people coming to act tough towards me as i am a 145/155 fighter at 5'5-5'6 in height...not to say i cant handle my own with most anyone around here (which admittingly i do a bit too much, living in the country with all the drunk rednecks).
Same, I'm about 165 5'9" and I do the same thing. I'm very social so I don't often run into hostility.
---
If a law is unjust, a man is not only right to disobey it, he is obligated to do so. ~ Thomas Jefferson
Sig by D.P.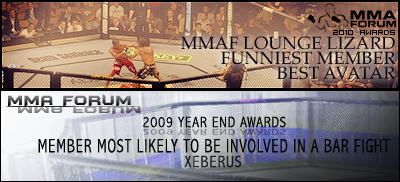 MMA Fanatic
Join Date: May 2010
Posts: 2
This IS a animal instinct, I get this all the time, and I'm really just an amateur street fighter, when tough guys walk by me I begin thinking what they would throw first and how I would counter it, also the fastest the way to take them out if they are more than 2, not that they would attack me, I just do it without thinking
---
Quote:
Originally Posted by Joe Rogan
That longing to return to the retarded past can only be born of some collective, subconscious, internal desire to try to turn back the clock on humanity and halt our obvious progression towards the inevitable zombie apocalypse of 2012.
I've always been a psycho like that. I've always walked places alone and to this day I still involuntarily tense up if I'm walking by another guy. I imagine what I will do if they make a move, especially if there is a group of guys.

I guess it is natural to some people. I see it as survival instinct. (usually being under 150lbs myself, this will likely lead to me being seriously injured one day.)
Not as weird as when I'm "rolling" with my fiancee I think in terms of jitz.......
---
Think. It Ain't Illegal Yet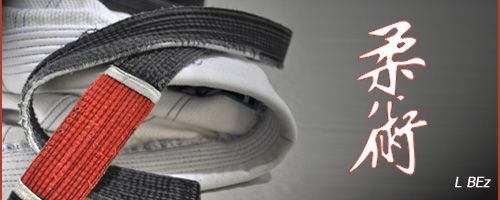 "Discipline Hurts Less Than Regret"
Curitiba Food and Liquor

Join Date: Dec 2006
Location: NY
Posts: 16,176
I think it's just the brain stem telling us what to do. It's like the fight or flight thing, IMO.
---

Sig Credit to Toxic

MMA Fanatic
Join Date: May 2010
Posts: 13
I have noticed on occasion that there is a bowing of the heads when two men approach each other. Not an act of submission but rather a statement that there is no intention of fighting.
Currently Active Users Viewing This Thread: 1

(0 members and 1 guests)
Posting Rules

You may post new threads

You may post replies

You may not post attachments

You may not edit your posts

---

HTML code is Off

---