Flyweight
Join Date: Apr 2010
Posts: 418
Punch Technique?
---
I am curious to see if someone could help me with a technical description of how the jab, crosses, etc would land.

I have started my (live-strike) training 4-days back on a 65-pound body-bag.

Right now I am waiting for another paycheck to buy some gloves and I am doing the training bare-knuckle.

One of my favorite drills I've found is to keep the bag floating in the air at a backwards 45-degree angle from perfect vertical with constant jabs for 30-45 seconds.

Any suggestions are welcome thank-you.
---


Throughout life there are bumps along the way some may be painful...others not...who gives a damn in the end you'll still die
Hey man, someone will be along shortly to help you! But I would say stop training bare-knuckle. Just shadow box until you get gloves and wraps, especially if you aren't quite sure how to throw a punch.

I can't tell you what you really need to know, because I am not a learned striker - I am just a good copycat. But someone less lazy will post an instructional video that should be able to help you more than words.
dude.. two very important things

1. stop hitting the bag with without gloves and hand wraps. ~you will damage your hands and wrists, especially if you don't know exactly what you're doing

2. Get to a gym.

If you absolutely refuse to get formal training, all I can suggest is just to be safe and go to youtube so you can see others actually throwing and explaining it out.
---
If a law is unjust, a man is not only right to disobey it, he is obligated to do so. ~ Thomas Jefferson
Sig by D.P.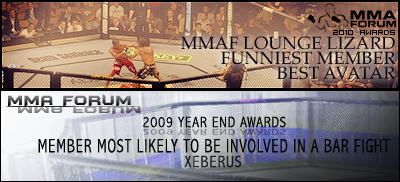 MMA Fanatic
Join Date: May 2010
Location: Liverpool, UK
Posts: 6
Hey Luger

I'm with SJ and Xeberus. Don't punch a bag without hand protection in the form of gloves and bandages. Gyms are always the best place to learn fighting techniques. You can prep up before hand. You can base your initial punching technique on boxing, but start with learning the stance and on-guard, moving in and out and the jab and right cross. There's stuff on youtube and the odd decent blog for beginners.

Good luck and look after your hands!!!

Fran
MMA Fanatic
Join Date: May 2010
Posts: 22
don't ever hit a bag without gloves , not even without wraps. Nasty wrist injuries can occur.
Currently Active Users Viewing This Thread: 1

(0 members and 1 guests)
Posting Rules

You may post new threads

You may post replies

You may not post attachments

You may not edit your posts

---

HTML code is Off

---