MMA Fanatic
Join Date: Apr 2010
Location: Leighton, AL
Posts: 36
boxing
---
i was just wondering if boxing could be self taught? and if so how easily? i take bjj and understand it greatly. boxing just seems as if it could be taught by experience. please give opinions on this thanks
No.
Sorry
---
If a law is unjust, a man is not only right to disobey it, he is obligated to do so. ~ Thomas Jefferson
Sig by D.P.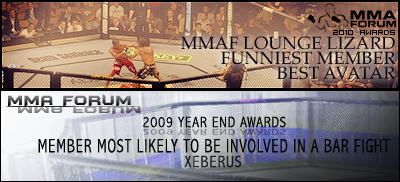 No you can train yourself to punch and movement but then your just a Kimbo lol Street Fighter Boxing takes alot of time..
---
.:H.O.F. Inductee:.
.:GFX-H.O.F. Inductee:.
Amatuer
Join Date: Mar 2010
Posts: 121
you can train alone but without at least basics you wont be as good as you would be if you actually trained it with a coach...just as in soccer team without coach is nothing! however, if you trained for few years and than wanna train alone, that could be done but train with at least one guy cus punching the bag all the time wont do it..but in the end i still suggest training in actual gym with certified boxing coach over self learning!
MMA Fanatic
Join Date: Apr 2010
Location: Leighton, AL
Posts: 36
alrite thanks. i was just wondering. and i take muay thai as well.
MMA Fanatic
Join Date: May 2010
Posts: 13
I am new to MMA (3 weeks) and I wondered if I could learn to box without a trainer. The answer is no. Trainers can see your weaknesses and help you eliminate them, for me I think the two most important tools a trainer provides is breaking bad habits and building my stanima. Both of these are hard to do on your own but breaking bad habits is impossible if you can't recognize them.

As an example I tend to reach and strike with with my arm rather then my body. Working out by myself I may have never noticed this but when (25% of the time and increasing) I strike correctly I can feel the cross throughout my body and I love the sound it makes when I hit the bag. But without a trainer I would still be reaching, losing my balance, and striking with my arms rather than my body.

One more thing different trainers have different perspectives and can help you with different things. My usual trainer is great but other trainers have a different perspective and a different teaching style that mixes things up and helps me progress.
Amatuer
Join Date: Mar 2010
Posts: 106
If you're already taking Muay Thai, you needn't much worry yourself with 'boxing' anyway.

In any case though, you can always train yourself with the help of visual aids off of the internet, in books, or on tape. But that's doesn't mean you'll be any good at all. How can you actually train yourself if you don't have any experience? If someone was teaching you any skill or trade, and they told you they had no experience in this, would you still be at all comfortable or faithful to their teaching? Doubtful.

Even if you had enough martial arts experience to train yourself for the most part, you're just not going to know the little details or tricks used in combat or in training by that art. If you "train yourself", you're never going to get the stuff that's passed down teacher to student.
MMA Fanatic
Join Date: May 2010
Location: Liverpool, UK
Posts: 6
As an Aide
---
Hey There
I'm a long time boxing coach.
I set up a site which seeks to demonstrate
how to box
. Now, I'm in total agreement, if you intend to compete at boxing, then you need to be under the tutelage of a decent coach. However, if you are seeking just to maybe enhance your existing skills (having already built a knowledge in the Gym environment), then a site like this might help. Likewise if you're just looking to learn how to hit a heavy bag, the same is true, this site might help. I'm particularly eager to get feedback from MMA/Muay Thai guys as having checked out forums like this they seem to be very self-analytical. Is it a site that might help? (BTW it's all free and there are lots of vids). Any comments or questions would be gratefully received back on this thread.
Cheers
Fran
Currently Active Users Viewing This Thread: 1

(0 members and 1 guests)
Posting Rules

You may post new threads

You may post replies

You may not post attachments

You may not edit your posts

---

HTML code is Off

---