View Poll Results

: Which is the most effective form of Striking?

Muay Thai/Kickboxing
16
61.54%
Krav Maga
0
0%
Boxing
5
19.23%
Wing Chun
0
0%
Kung Fu
1
3.85%
Jeet Kune Do
0
0%
Capoeira
0
0%
Karate
0
0%
Taekwondo
0
0%
Other - please state in your post.
4
15.38%
Voters: 26. You may not vote on this poll
Quote:
They're not just drama queens (I don't doubt that there are some who exaggerate to get that little extra rest). You see it in the cases when the referee doesn't stop that they are handicapped for a while.



I actually know that a groin shot which didn't properly land may start to hurt only after the adrenaline goes down after a situation on the street. And a good friend's acquaintance told that he thought only to have been punched in the torso when he woke up from coma after having got stabbed. Another one I know of just felt it getting warm around the area of his kidneys (due to his blood), before passing out.

BUT groin shots and knife stabs are a different thing than eye pokes. With the eye it's not necessarily so much about pain, it's more about uncontrollable reaction. You just can't control the tears to start to run and thereby obscuring your vision and you barely can't control your eyes from squinting, because that's just an automatic reaction.
Fair enough. I often overreact on this topic because I've heard so many people tell me that they could beat Fedor with an eye-gouge or groin shot...
---
Highly opinionated but out of touch with the current MMA scene.
Support my FB athlete page!
Watch my pro highlight reel
Well kin pretty much said everything better than I would have should I have attempted.

In a fight against myself where one of me is allowed to use gouges, throat strikes, groin kicks etc he/I would garnish no advantage while standing.
---
If a law is unjust, a man is not only right to disobey it, he is obligated to do so. ~ Thomas Jefferson
Sig by D.P.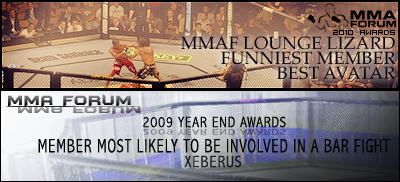 Quote:
Fair enough. I often overreact on this topic because I've heard so many people tell me that they could beat Fedor with an eye-gouge or groin shot...
That would be ridiculous indeed. The average guy would still lose to Fedor or any top ranked MMA HW even if these were handicapped by being handcuffed behind their backs. Self defense is to get the odds on your side and trying to use every advantage there is, but it can be that the opponent is still stronger and then you just lose if you can't run away. Chances are high to "win" if the opponent was about the same size with the same or just little higher physical abilities in the first place, but if his abilities surmount the victim a lot, chances will still be low. That's why sometimes people with weapons lose to unarmed opponents. Basic chances were increased by the weapons, but not enough for that specific opponent.
Flyweight
Join Date: Sep 2010
Posts: 205
Maybe I just missed it, if so I am sorry, but I'm sort of suprised that no one has gone ahead and more clearly defined the scenerio we are debating. As mentioned previously the answer basically is it depends on the situation.
I'll say that for one thing, it depends on your natural abilities and inclinations as to what you are best at. It's not so much what is the best style but more, what is the best style for ME.
Currently Active Users Viewing This Thread: 1

(0 members and 1 guests)
Posting Rules

You may post new threads

You may post replies

You may not post attachments

You may not edit your posts

---

HTML code is Off

---