MMA Fanatic
Join Date: Jan 2011
Location: North Wales, United Kingdon
Posts: 7
Takedowns
---
hey guys.. this is a really silly question and some what novice!

but.. whenever i go for a takedown and succeed I always seem to end up right in a guillotine! It happens near enough every time!

are there certain techniques to avoid this? or is it simply I need to be quicker with the takedown?

any comments will be appreciated, thanks!
you could just keep your head up and close to his hip, instead of dropping it down and forward like you're tackling. or you could even put your head in their chest, look up get the takedown without getting choked. it really just depends on you.
---
If a law is unjust, a man is not only right to disobey it, he is obligated to do so. ~ Thomas Jefferson
Sig by D.P.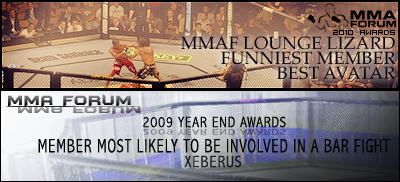 I am far from an expert in takedowns but... the main reason alot of takedowns fail is because of a poor set up. The opponents mind must be on something other than defending a shot or choking you out.

From a technique standpoint Xeberus is correct. I'm assuming your shooting for a double leg. Your head is used in the takedown. If you leave it out you set yourself up for the guillotine.

Alot of things need to come together before takedowns become effective. What helped me out was spending alot of time with really good wrestlers and alot of drilling. THEN taking that and modifying the technique for MMA and Sub Wrestling.

Stay with it and ask your partners how they keep catching you.
Join Date: Oct 2009
Location: Ohio
Posts: 2,719
Avoiding a guillotine choke is all about staying out of the range of the guillotine. This is done in three ways:

1. Keep your head back. Essentially look directly at your opponent, rather than dropping your head and shouldering through.

2. Shoot low. Aim to put your head around his hip level. Its biologically impossible to wrap up someone's head when their neck is at wrist level. In this situation, head position (up or down) is less important, but keeping it up should be a priority. The only reason not to keep it up, would be to protect the chin from a knee, which depends on the standup skills of the opponent, and his apparent willingness or aptitude to use knees.

3. Shoot to the center. In this case the goal is to keep the head centered along the opponent's centerline. This does not make it impossible to be guillotined as effectively as a lower shot, but it does make it easer to sense the set up as your opponent's core turns to align his arm with your head, as well as makes it easer for you to stand up and move for a body clinch, or to drop to a knee and get a lower double/single. When shooting to the center, keeping the head up is very important.
---
Sig courtesy of that photo-matic magician limba
Quote:
I went out the way that I fight. I went out on my shield. Thatís it. Done. --Chuck Liddell
Quote:
My goal is to end my opponent --Carlos Condit
MMA Fanatic
Join Date: Apr 2010
Location: Leighton, AL
Posts: 36
put ur head on his hip and look forwards while doin so. guys if im wrong or u would like to add please do so.
You're not terribly important to me

Join Date: Jul 2010
Location: Sell me this pen
Posts: 15,507
i feel the key to the takedown in offense and defense is these 2 components - strength and balance. balance- because when taking someone down you want them off balanced or hopping on one leg to take them down. strength- when you are clinching strength is usually the factor of holding someone on the cage or tearing them down to the mat and keeping them there.

as for avoiding a guillotine i have a move i will share with you guys.

when he has you in it from standing take him to the ground, if he is already on the ground perfect, now what you want to do is use your far arm to go around his neck and the other arm pulling his guillotine arm out a bit to breathe, then claspe both hands together while keeping your arm around his neck, then you want to stand up and put all your weight on him, at the same time your shoulder is digging into his adams apple and he cant breathe so it is a submission counter to the guillotine.
---
Jim Norton
Nick Dipaolo
Dave Attell
Dave Chappelle
Bill Burr
Joey Diaz
Colin Quinn
Bob Kelly
Rich Vos
Patrice O'Neal
Louis CK
Currently Active Users Viewing This Thread: 1

(0 members and 1 guests)
Posting Rules

You may post new threads

You may post replies

You may not post attachments

You may not edit your posts

---

HTML code is Off

---