MMA Fanatic
Join Date: Feb 2011
Location: UK
Posts: 5
Are kicks important in MMA?
---
Hey guys, I was just wondering whether kicks are important or not in MMA?

Even though I've been training in thai boxing for 2 years I'm still not a great kicker. I'm good with my hands because I've been boxing since I was 10 years old, and I'm also pretty good at throwing knees, elbows and fighting in the clinch. It's just kicks I suck at. Also I noticed when I did MMA sparring with my muay thai instructor I was able to take him down easily whenever he tried throwing a kick higher than my waist. So yeah, are kicks important?

Also, what's the best way to fight against someone who has decent kicks when you don't?
High kicks are dangerous but not efective as a solid leg kick. Imo . Defending leg kicks is just as important . I would rather take a solid punch to the face than a good leg kick they hurt and take away your balance and power
---
Credit to M.C !!
Amatuer
Join Date: Mar 2010
Posts: 121
yes, they're important..you don't see them as much as in k-1 fights but that's normal cus there's no ground fighting in k-1 plus it's easier to catch a kick with mma gloves then boxing gloves and then use that to take oponent down or counter him or whatever...so most of the time low kicks are used..you see high kick from time to time but that's mostly due to oponents eye being closed or using it as surprise cus people don't expect that, especially if fighter is not stand-up oriented...middle kicks are pretty rare but some high skilled stand up fighters like shogun or machida still use them effectively all the time so yeah, they're important if you know when to use them and how to use them!
Just go watch Faber vs. Aldo, and see how important kicks are.
---
Isshinryu Karate 2nd degree Black belt.
Neko-Ryu Goshin Jitsu 2nd degree Black belt.
Jujitsu 2nd degree Black Belt.
Isshin-Jujitsu 2nd degree Black belt.
very.
---
If a law is unjust, a man is not only right to disobey it, he is obligated to do so. ~ Thomas Jefferson
Sig by D.P.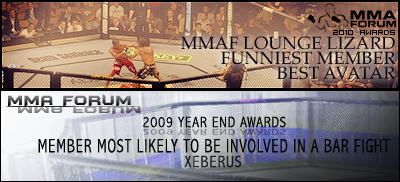 A lot of good fighters use them all the time. So I'd think so.
---
"Existence precedes essence"
- Jean Paul Sartre
My podcast/blog:
http://lifeashumans.blogspot.com/
Funniest thing you may ever find on the internet:
www.gentlemanbob.com
or look for gentlemanbob on facebook
NPFFL: Cain Velasquez, Demian Maia, Lyoto Machida, Joseph Benavidez
Banned
Join Date: Feb 2011
Posts: 336
Rampage Jackson says no, dont use them, dont check them, dont acknowledge their existence. :P
MMA Fanatic
Join Date: Dec 2009
Posts: 80
It depends, a fight is a fight, when a kick needs to be thrown, throw it hard and fast but you definitely have to be an expert to beat a real pro with kicks.
Join Date: Oct 2009
Location: Ohio
Posts: 2,719
Yes. Setting up punches, finishing combinations, countering the wrestler, controlling range, finishing the fight. These are all area's where the kick is vitally effective.

Using a kick you can keep your guessing as to what you're gameplan is. You can come out and throw the occassional kick at the beginning/end of a combination, or on their own as individual attacks. Another advantage of the kick is that if you are landing with any regularity, and they're damaging, it has the tendancy to make your opponent A. skittish and unwilling to commit, or B. Dangerously aggressive and overcommittal.

When attacking the legs, you can limit mobility and explosiveness, making the opponent less able to burst for a takedown, or less able to quickly sprawl, also, less able to properly balance and pivot.

Attacking the head/body are very situational. Attacking the head should only be done (IMO) when you "feel it" so to speak. The same way a grappler can feel when its the right time to shoot. Attacking the body should only be done when your opponent's attention is elsewhere, i.e. evading punches or reseting. Attacking the body puts your leg in the perfect position for a single leg takedown attempt.

Examples:
Forrest Griffin vs Rampage Jackson
Pedro Rizzo vs Ken Shamrock
Almost every CroCop PrideFC fight.
Shogun vs Machida 1 or 2.
---
Sig courtesy of that photo-matic magician limba
Quote:
I went out the way that I fight. I went out on my shield. Thatís it. Done. --Chuck Liddell
Quote:
My goal is to end my opponent --Carlos Condit
Amatuer
Join Date: Mar 2010
Posts: 106
I'm a little late, but yeah. Some kicks are more important/useful than others, mind you. A good front kick can feel like getting jabbed with a spear or something, as it's got just as much or more power than a punch, and about 50% more reach than a straight punch. A good roundhouse kick is like getting blasted with a baseball bat. Then you get into things like crescent kicks or axe kicks, where the risk to reward ratio starts to drop drastically (in MMA/street).

Jardine pillaged Liddell with kicks to the body and (I think?) legs. I think that's another good example of the viability of kicks.

Not to be offensive to you or your teacher, but it could just be that you're a better takedown artist than your teacher is a kicker.
Currently Active Users Viewing This Thread: 1

(0 members and 1 guests)
Posting Rules

You may post new threads

You may post replies

You may not post attachments

You may not edit your posts

---

HTML code is Off

---