Catch Kick head kick?
---
I haven't been kickboxing that long but ever since i transitioned from boxing and started incorporating kicks into my arsenal this has struck me as a kick that could work and would surprise the hell out of you opponent.
Any more experienced kickboxers ever tried this or think it could work?
That gif shows an example of when it could have been done - If Cung had gone with the other leg.
---
MMA Fanatic
Join Date: Mar 2011
Posts: 5
Plenty of times. The idea is to swing the leg you're catching to try and get them off balance.
That's nothing new. It's quite common in styles like Muay Thai or Sanda. I wonder though why so few people try to do it in MMA. It's not like it would be a super fancy move.
Not a very rare thing to do actually, but I prefer throwing a hard straight punch instead of sweeping. If you hit them it'll probably knock them down anyways. But keep in mind if you reach for a kick to your body and its actually a kick to your head its not gonna be pretty, so be careful.
---
If a law is unjust, a man is not only right to disobey it, he is obligated to do so. ~ Thomas Jefferson
Sig by D.P.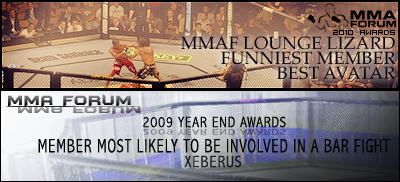 Amatuer
Join Date: Mar 2010
Posts: 106
If you meant "is catching a kick, then sweeping your opponent's planted leg" new or radical, then no, it is not. As said by the other users, catching and sweeping isn't something new or unheard of.

But the way I'm reading your post, it seems like you're asking if it's realistic to catch a kick, then throw your own counter kick to your opponenet's head instead of sweeping? You definitely could do that, or try to. Keep in mind though that kicking high endangers your balance, and in this scenario, you're holding on to your opponent's leg which he is frantically trying to pull out of your grip. Also, high kicks are typically slower than low kicks. What that means is that if you take the extra time to take your kick high instead of low, that's more time and opportunity for your opponent to toss a counter punch, or to lean in and pull you into a clinch. I'm certainly not saying don't practice it, try it, or do it. Just pointing out some 'risks'. It's not a bad thing to do, but it's not any secret, sacred technique to be praised. Just another way to counter/attack.
yeah i haven't been that clear.

I'm not talking about a leg sweep, like North says i'm talking about catching the leg and then firing off a head kick of your own.

I've played around with it and found it throws your balence off but even my training partners who know me find it hard to anticipate.

I suppose there isn't much advantage to doing this rather than a straight right but i just like the idea of throwing your opponent off and reckon this does it well!
---
Currently Active Users Viewing This Thread: 1

(0 members and 1 guests)
Posting Rules

You may post new threads

You may post replies

You may not post attachments

You may not edit your posts

---

HTML code is Off

---