MMA Fanatic
Join Date: Nov 2006
Posts: 7
Should I train kickboxing in holland or in Thailand ?
---
I was thinking of taking a trip to either mejiro or tiger muay thai in july to train but the thing is that tiger is more of like a camp that i stay in the gym then we run in the morning and 2 training sessions..etc and I'll be alone so I think I'll make friends faster but training in holland is better for my kickboxing but i'm not sure about everything else. can someone help me
Kickboxing then Holland. Muay Thai then Thailand, just my oppinion.
---
If your only concern is technique, I'd suggest the Netherlands. I think the Dutch training methods are a bit more sophisticated in average then the Thai's. But if you also want to experience some of the "old school" atmosphere in addition then go to Thailand.
I'm no martial artist, but i've been to Thailand, and its a very hot place. Never been to Netherlands. I guess it depends whether you want to train Muay Thai or Kickboxing.
Reply
---
It definitely depends on you, but in my opinion, the Thailand it's best choice for you.
holland.

no question for me.
---
If a law is unjust, a man is not only right to disobey it, he is obligated to do so. ~ Thomas Jefferson
Sig by D.P.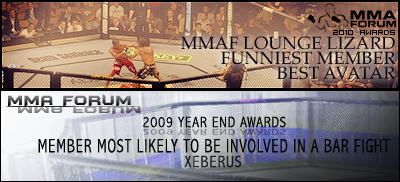 Flyweight
Join Date: Apr 2010
Posts: 418
I cannot tell you much about kickboxing, but my instructor would tell you he would love to head to the Netherlands for some instruction.
---


Throughout life there are bumps along the way some may be painful...others not...who gives a damn in the end you'll still die
I would probably just say that Thailand is most likely cheaper to stay and train at.
Join Date: Oct 2009
Location: Ohio
Posts: 2,719
I think it depends on what you're looking for.

If you want the atmosphere, the traditional lifestyle, and solid technique. I would say Tiger.

If you want an equally solid, but more developed, technical program I would say Holland.

Both are strong options, but I think both have limitations. It just comes down to what you want out of your training.
---
Sig courtesy of that photo-matic magician limba
Quote:
I went out the way that I fight. I went out on my shield. Thatís it. Done. --Chuck Liddell
Quote:
My goal is to end my opponent --Carlos Condit

Join Date: Mar 2010
Location: NC.
Posts: 9,815
For seeing the world, women and weed that's a tough choice.

For training. I'd bet you don't have to leave your state to find some 1st class kickbox training. Once you have learned all there is to learn at home then you will know where to go grasshopper.
---
Currently Active Users Viewing This Thread: 1

(0 members and 1 guests)
Posting Rules

You may post new threads

You may post replies

You may not post attachments

You may not edit your posts

---

HTML code is Off

---