Flyweight
Join Date: May 2010
Location: Spring Lake, NC
Posts: 243
Flat-Footed vs Ball of the foot
---
I have a fight Apr 9th and I have a question. My opponent is more than likely a BJJ fighter considering the team he comes from (Evolution MMA). This is a HWT bout as well. He is a inch shorte than me (6'0) and is probably flat-footed as all HWT grapplers are. The one trait that I believe is gonna give me the advantage is Im a "light on my feet" TKD kickboxer. I wrestled all 4 years of high school, traveled to train with former olympian wrestlers (Baumganer, Gable, Brands Brothers, etc). I currently train with a former TKD olympic head coach (Myong Mayes).
My question is who do you guy believe has the advantage on the feet?
---
6'0 254 lbs 1-0 Amatuer
BW: Masakazu Imanari FW: Hastu Hioki LW:Eddie Alveraz WW: Mauris Zaromskis MW: Hector Lombard LHW: Christian M'Pumbu HW: Sergei Kharintonov
Massively advantageous to be on the ball of your foot. Okay I've never discussed this much before so my limited experiences could be aligned perfectly to give me the wrong impression but here is my opinion: a person who remains flat footed is ****ed, im going to hit them and they won't be fast enough to get out of the way, likewise they are going to be easier to take down.

People sometimes compare speed with power, the assumption is that there is a base level for speed at which power becomes viable for comparison. But make no mistake speed is god.
---
If a law is unjust, a man is not only right to disobey it, he is obligated to do so. ~ Thomas Jefferson
Sig by D.P.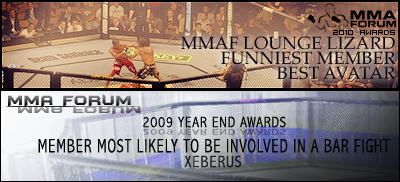 ---
Last edited by xeberus; 04-03-2011 at

10:56 PM

.
Join Date: Oct 2009
Location: Ohio
Posts: 2,719
There are two schools of thought on counter-wrestling:

1. Rooting. The applied concept here is that by being flat footed and lower the center of gravity you make yourself an immovable object. This has in certain cases worked. Look at Lesnar vs Couture or Carwin. In this case however brute strength plays a big part in this kind of sprawl tactic.

2. Movement. The applied concept in this case is that by constantly staying on the balls of the feet, all explosive movement is quicker. Look at Lyoto Machida, or GSP as examples. This kind of sprawl is all technical and doesn' require nearly as much strength as the rooted sprawl.

I personally believe in the movement strategy, because by staying on the balls of the feet you add to your repetouire of offensive and defensive options. It makes staying outside of his range easier and moving out of his range quicker. It also makes moving into his range faster, giving you the edge when on the attack.
---
Sig courtesy of that photo-matic magician limba
Quote:
I went out the way that I fight. I went out on my shield. Thatís it. Done. --Chuck Liddell
Quote:
My goal is to end my opponent --Carlos Condit
Currently Active Users Viewing This Thread: 1

(0 members and 1 guests)
Posting Rules

You may post new threads

You may post replies

You may not post attachments

You may not edit your posts

---

HTML code is Off

---