MMA Fanatic
Join Date: Aug 2007
Posts: 48
nutrition measurement / diet ?
---
Hello,

what do you do to measure your nutrition intake on a daily basis. for instance to you measure the amount of protiens / carbs / veg / fats by literally measuring it in grams? and if so what do you measure them out to. and do you count the calories based on whatever your measured meal is? Does anyone know of a spreadsheet or any info on a conversion ie. 10 grams of lean griled chicken (or whatever) = x calories. as of lately I have just been portioning myself. I have cut about 10 pounds and have been getting my heart rate up to begin my program. Now I am ready. I WILL get lean and mean again... i feel it, I'm ready and I have a good start already.

THANKS-B
MMA Fanatic
Join Date: Aug 2007
Posts: 48
That post sounds like a bombardment of questions...Sorry. But I forgot to mention that I am 29 years old, 6'2 - 205#, I would like to get down to about 195 and solid before I try to bulk back up. if I do.
MMA Fanatic
Join Date: Sep 2007
Posts: 7
If you are 6'2" 205 lbs with average muscle mass, then you need to eat about 2500 calories to maintain your weight. So that means if you want to lose weight, then you need to eat about 2100 calories per day.

It doesn't matter what you eat, as long as you eat 2100 calories per day (or a little less) you will lose weight. You can even eat all junk food if you want and still lose weight as long as it's 2100 calories. It's not good for you, but you will still lose weight.

If you want to do it the right way, you need to lift weights. Bench press and squats are the most important because they build the most muscle mass. The more muscle mass you have, the more calories you burn automatcially every day even if you're not working out. If you are going to lift weights, then you need to eat at least 100 grams of protein per day. I recommend going to a GNC and getting a protein shake. Take a multivitamin as well. You can also jog if you want, but lifting weights is a far more efficient way to exercise if your goal is to lose weight.

You can buy a book that tells you the calories of many many thousands of different foods. Go to the Health section in your local book store and look for "calorie counters"

Summary:

Lift heavy weights (about 7 reps, 3 sets) bench press and squats are the most important. Let muscles rest AT LEAST 3 days before you work them again (but not more than 1 week).

Eat a lot of protein (carbs and fat don't matter as long as you don't go over 2100 calories).

Don't eat more than 2100 calories.

Drink a lot of water.
---
Last edited by MMAChris; 09-12-2007 at

12:54 AM

.
MMA Fanatic
Join Date: Aug 2007
Posts: 48
I try to have around 22-2700calories a day at least 150g protein, minimal bad carbs/fats.
---
If a law is unjust, a man is not only right to disobey it, he is obligated to do so. ~ Thomas Jefferson
Sig by D.P.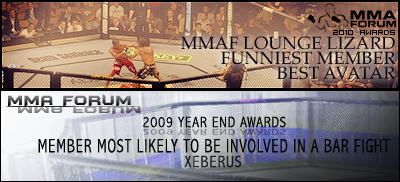 MMA Fanatic
Join Date: Aug 2007
Posts: 48
I recently purchased my first round of supplements and I am wondering if you think I could still cut while using these. I plan to and have been for the most part , been following a strict diet. I purchased:

Univeral, animal Pump - Creatine / N0 formula
BSN- Syntha 6 protein
GNC- glutamine
a general multi and Glucosamine chondrotin ( I am nursing a shoulder issue )
Amatuer
Join Date: Sep 2007
Location: NY
Posts: 159
Not very good advice above IMO.


The best thing to do is to show us a diet, a diet you think is the best for your needs, a diet that you will follow.

Post your whole diet
with timings
with portion sizes
and showing when you train

I'll criticize it.
Currently Active Users Viewing This Thread: 1

(0 members and 1 guests)
Posting Rules

You may post new threads

You may post replies

You may not post attachments

You may not edit your posts

---

HTML code is Off

---