How do you fit Muay Thai and BJJ with weight training in????
---
It all seems like a lot to fit into one week. I made this schedule up to fit into my worh schedule and school. This seems so hard. Like how does one have enoough energy to do this or does it just get easier and easier after you have been doing it for awhile??? Is this to much???

Monday :

Muay Thai
Pull Ups, Chin Ups, Bent Over Rows, Deadlifts, and Shrugs
Barbell Curls and Preachers Curls
Run 2 Miles

Tuesday :

Muay Thai
Some Other Cardio If Possible
ABS

Wednesday :

Jui-Jitsu
Bench Press, Incline Dumbbell Press
Overhead Press, Dips, Close Grip Bench, and Cleans To Push Press

Thursday :

Jiu-Jitsu
Run 2 Miles Or More Get A Killer Cardio In
ABS

Friday :

Muay Thai
Jiu-Jitsu
Jog 2 Miles Before I Go To Training

Saturday :

Squat, Leg Press, and Leg Extensions

Sunday :

OFF
MMA Fanatic
Join Date: Feb 2009
Location: Granite Bay
Posts: 94
heres how I do it
Monday- Maximal strength training
Tuesday- MMA class and core
Wednesday- Explosive strength training
Thursday- MMA class and core
Friday- Maximal strength training
Saturday- MMA class and core
Sunday- rest
the weight training i good but i'm not an expert but i think you might be overtraining with the jogging your body needs a rest
Flyweight
Join Date: Jan 2007
Location: New Jersey
Posts: 227
It looks like you're committing your body to a lot of physical work, with not enough time to rest. Also you should keep in mind that with all the stuff you're trying to fit into the week, with school work, and work, your performance in school will drop, as will your motivation to stay on this tight schedule. Consider dropping one of those things off.

This is how i do it (also I have college classes Monday - Friday)

Monday
Strength Training
Tuesday
Muay Thai
Wednesday
Strength Training
Thursday
Muay Thai
Friday
Strength Training
Saturday
Muay Thai
Sunday
Crash
---
" Keep away from those who try to belittle your ambitions. Small people always do that, but the really great make you believe that you too can become great." ~ Mark Twain
I think you're doing a little too much weight lifting. What are your goals for working out... are you looking for strength gains, or more of endurance type stuff?
---
What a stud
Quote:
The power of Aleks, his small baby and pimp hardcore dogs has granted you useful insight, my friend.
Bantamweight
Join Date: Dec 2006
Posts: 642
Just make sure you're eating enough and sleeping AT LEAST 8 hours a night.

My schedule is

Monday- Lifting, BJJ, MMA
Tuesday- 2 BJJ Classes, Boxing
Wednesday- 2 BJJ Classes, Muay Thai
Thursday- 2 BJJ Classes, Lifting
Friday-BJJ
Saturday-BJJ, Lifting

It takes a little to get used to. What you can do is start with your martial arts. Then next week do that and add in lifting. Then the next week do that and add in your running, so by week 4 you'll have everything up and running.
What are you doing in MT and JJ?

My schedule:

Mon: Running (ie 2 mile jog, a few pull ups, captains chair etc) then Kickboxing

Tues: Weight training

Wed: Running, JJ

Thurs: Weight training

Fri: Running, kickboxing

Sat: kickboxing sparring 12ish, jj open mat after 6


Dunno how you manage anything besides weight training on those days. Just to maintain I drag the rest of the day, a small child could probably kick my ass. Make sure you eat enough calories and get at least 8 hours of sleep a night.
---
If a law is unjust, a man is not only right to disobey it, he is obligated to do so. ~ Thomas Jefferson
Sig by D.P.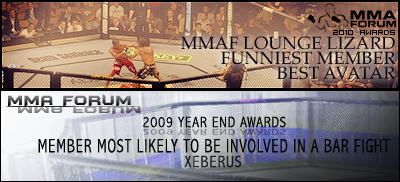 MMA Fanatic
Join Date: Mar 2009
Posts: 23
I'm gonna do you one good kid. I don't know who designed your program but Man i'm about to shoot you myself..
Do this for 4 weeks tell me how you like it, and we'll improve it from there if it is working for you.
I don't know your set/rep schemes or your level of training so just do what feels challenging, and improve strive for progression each workout.
Monday :
Muay Thai
Power Cleans, Deadlifts (IN THAT ORDER)
15-25mins of HIIT
Tuesday :
Muay Thai
Bench Press, Incline Dumbell press and Dumbell or barbell pullovers
http://www.youtube.com/watch?v=DlcHISffkx0
(There is pull over)
Wednesday :
Jui-Jitsu
OFF weight training
Thursday :
Jiu-Jitsu
Squat
Military press, Pull ups/Chinups
Friday :
Muay Thai
Jiu-Jitsu
25mins of HIIT (You figure out how you want to do this just keep moving hard for 25 minutes with minimal rest, maybe 100m sprints?)
Saturday :
If you must have a 2mile jog do it either today or sunday.
Sunday :
OFF
First of all your going to notice I removed your isolation exercises. They are quite useless.
The goal here is to work each muscle group 1 time per week.
This is very low frequency, but this is good. Your going to want to have high VOLUME workouts. Usually Mid-high sets, with low reps heavy weights and usually 5+ sets per exercise.
This will go against what some of you believe, or even want to accept. But, I dont really care keep training your body improperly and not getting the results you want. It doesn't hurt me.
If you want further information or a more detailed lifting plan, IM me Jawnvme on aim and i'll put together a better program for you and explain to you why it works. That goes for anyone who wants a personalized program. Just IM me..
Jake
Powercleans = a pulling movement, and it's also an Oly lift, and you should always do Oly lifts first since they are so technique specific.
---
What a stud
Quote:
The power of Aleks, his small baby and pimp hardcore dogs has granted you useful insight, my friend.
Currently Active Users Viewing This Thread: 1

(0 members and 1 guests)
Posting Rules

You may post new threads

You may post replies

You may not post attachments

You may not edit your posts

---

HTML code is Off

---