I need help with muscle recovery
---
Ok. I have given up kick boxing and fighting all together. So im wanted to build up more muscle in my upper body that I was hesitant to do previously because the more muscle on my frame the worse my cardio got.

I have a great weight lifting routine and I practice great form. The problem with this is I get sore. And I know all the basic things, im going to hard etc. But it really doesn't feel that way to me.

Is there anything I can do or take to help with muscle recovery?
---
If a law is unjust, a man is not only right to disobey it, he is obligated to do so. ~ Thomas Jefferson
Sig by D.P.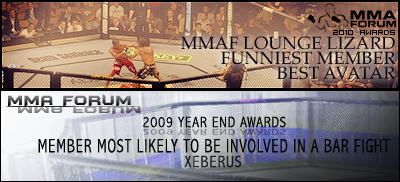 Being sore means you're doing it right.

There're plenty of supplements out there that'll help your recovery times. Outside of that, staying hydrated helps a lot, as well as taking contrast showers after your workouts.
---
"I don't want them to like me, because when I'm in the ring, punches fly to the face. It is not a tenderness time. I am not falling in love. And he knows that when the fight starts I am kicking faces."
- Wanderlei Silva
Flyweight
Join Date: Dec 2006
Posts: 481
Can't remember where I read it but I came across a pretty interesting article. It stated that the more muscle your body has as a whole, the more oxygen your cardiovascular system requires which explains why it's harder to run with lots of muscle than running with none whatsoever.

I worked out my biceps/triceps on Friday, still sore today. Just train other body parts and when they're completely rested and healthy again, then you know you're ready to get back to them.
Well it may be harder for you personally to perform cardio with more muscle as we are unique however just having a look at some of the prime athletes out there, footballers, basketballers, track & field, all kindsof sports people have bigger frames and yet perform well in cardio orientated sports.
So it can be done, just se yourself that goal.

On the issue of your muscle recovery, if i work out and don't feel any muscle discomfort the next day or the day after i know i haven't worked out properly.
Known as pain but its not really pain as such, more and more you'll do your routine the less likely you are to feel the pain the next day (unless your gradually increasing resistance).
So embrae the discomfort, your body's letting you know you have performed properly.

Recovery: shouldn't be a big issue, I mean lets say you work your chest on monday, why would you need to use your chest on a tuesday? the next day work your triceps, day after work your back and so on.
Ice cold baths are good for recovery, fill your bath with very cold water, put a crapload of ice cubes in there aswell... try and stay in for a good few minutes, if you cannot then leave and re-enter.
No bath? use a shower,alternate between very warm and very cold water.
f your body feels cranky the next day I like to warm up the muscles affected via a hot water bottle or just a shower, eases the pain.
---
to answer your actual question.

L-Glutimine will decrease your recovery time. Make sure your protein intake is high enough. Branched chain amino acids will also decrease soreness.
Megaweight

Join Date: Oct 2007
Posts: 5,909
I need help with muscle recovery
---
Thread restored
Currently Active Users Viewing This Thread: 1

(0 members and 1 guests)
Posting Rules

You may post new threads

You may post replies

You may not post attachments

You may not edit your posts

---

HTML code is Off

---