Funny Story At the Gym
---
Ok, so there I am at the gym just about to get started and I have an IPOD and the stand (BOYB, down with the sickness, last resort, got the life, word up, coming undone etc) and im mid-way thru my 7th rep of 225lbs (which is now very heavy for me) and all of the sudden Girlfriend by avril lavigne comes on... everything stops, turns slow-motion as everyone slowly turns and looks at me and now the 225lbs feels like 5000lbs and it was quite awkward...

but good times.
---
If a law is unjust, a man is not only right to disobey it, he is obligated to do so. ~ Thomas Jefferson
Sig by D.P.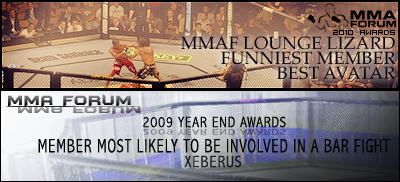 Haha, I'm liking the Papa Roach in there. Good story. Very old thread, but still
---
[IMG]http://www.****metal.com/bjpennsig.jpg[/IMG]
UK-MMA - A Mixed Martial Arts Community
Favorite Fighters
BJ Penn
Rampage Jackson
Anderson Silva
Eddie Bravo
Randy Couture
Mauricio Shogun Rua
Liverpool Football Club Forever

Awesome. I have a similar experience. In my high school strength training class, my buddy would start singing random songs in a gay voice while I'm toward the end of my set (bench). The one I remember the most was "Oh what a night."
Shit, now I have that song stuck in my head. dooo do do, do do do do dooo do...
That's such a great song!!! I would try even harder with that playing!!!

No just kidding, I'd be pissed if someone was playing Avril Lavigne at the gym. Though the gym I go to tends to play house which I don't like anyway - oh well. Every gym in London plays house.
Reminds me of this really tall/fat son of a bitch that used to fight amatuer shows in my area. He was a big scary looking guy but just kind of a weird cool dude. He would look all crazy and belt out "Closer to the heart" by Rush
Yeah once in my MMA gym whatever CD we were listening to was scratched so we had to resort to the radio. It got really awkward rolling when Kelly Clarkson came on.
---
"We are all one." - Genki Sudo
Megaweight

Join Date: Oct 2007
Posts: 5,909
Funny Story At the Gym
---
Thread restored
Currently Active Users Viewing This Thread: 1

(0 members and 1 guests)
Posting Rules

You may post new threads

You may post replies

You may not post attachments

You may not edit your posts

---

HTML code is Off

---