MMA Fanatic
Join Date: Apr 2010
Location: Leighton, AL
Posts: 36
good home cardio training?
---
yea ive just recently gotten into mma and i was wondering some good ways to get in good shape from ur house? i usually jump rope 30 mins and do 225 or so crunches. i also hit bag and stretch. thanks
Okay, I have some of the best cardio building exercise you can get. And you can do it anywhere.
step 1: put on shorts, tee shirt, comfortable yet supportive undies.
step 2: grab your ipod/zune/w.e for music
step 3: stretch
step 4: start walking out side in any direction you wish for 2-3 minutes then pick it up to a full jog and push yourself accordingly.
Wah-la!
Pro Tip: drink lots of water and eat before engaging in strenuous activities.
---
If a law is unjust, a man is not only right to disobey it, he is obligated to do so. ~ Thomas Jefferson
Sig by D.P.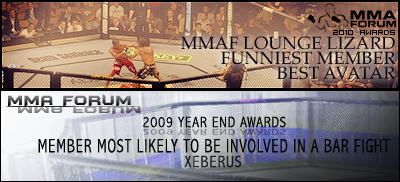 jump rope
---
people say either the world will end at 2012 or the aliens will finnally come back to us.....


i hope not cuz im writing a sci fi novel
MMA Fanatic
Join Date: Oct 2009
Location: Bristol, England
Posts: 49
Jogging is a good one of course. But in terms of in your own home.. I tend to do 30-40 minutes of mixing a whole bag of different exercises up. Shadow boxing (or a punch bag if you have one) , press ups, crunches, dumb bell exercises, squats, burpees, etc etc.. if cardio is all you're worried about, you should just be looking to do anything that builds up a good sweat really.
Featherweight

Join Date: Feb 2007
Posts: 1,152
I travel a lot so if my hotel doesnt have a gym, or im I renting a house for a month, I need to do something outside in the yard, or in an open room.
I always have my resistance bands that I use.
Here is a decent site I found for calisthenic exercises:
http://www.myfit.ca/exercisedatabase...&equipment=yes
This is what I suggest:
For a 30 min workout:
Do a 5 minute warm up (jumping jacks, shadow box, jog, skip rope etc)
Then chose 5 of the calisthenic exercises, and do them for 1 min each = 5mins.
Take a 1 min break, and repeat up to 4 times.
It may be tough at first so you may only finish 3 sets in 30 mins because of a longer break.
For a 1 hour workout, do 5 X 2mins X 4 sets.
I usually include the 2nd exercise in this video:
http://www.youtube.com/watch?v=XGny0...eature=related
If you try to do 50 of the above jumps (1 includes 1 jump+1duck+1jump) in one of your 2 mins, it makes you cry. a little. and vomit. a little. You dont need the bars. Just jump over a rock, or a pair of socks, and just make sure you duck really low. thats what really kills the legs.
ANyways, let me know if you have any other questions about working out in an empty room. Im a pro at it.
ONe last thing I forgot to mention. Its only gonna be as hard as you want it to be. In 2 mins, I try to complete 50 pushups (various kinds), for the sit ups I'll try to get to 75-100 per set, I'll include another tough leg one, or a combination like burpees etc.
---
Last edited by WestCoastPoutin; 05-09-2010 at

03:29 PM

.
MMA Fanatic
Join Date: Jun 2010
Posts: 1
Cardio Specificity
---
It's really important that you actually consider the following:

1. Why are you doing "cardio"?
2. Is your choice of "cardio" work appropriate to the desired result?

Lots of people cite running as the king of cardio exercise - unfortunately it's pretty far removed from the demands of MMA competition.

Try five minute rounds of bodyweight drills or shorter duration sprints.

Example: 1 minute Squats, 1 minute push-ups, 1 minute skipping, 1 minute box jumps, 1 minute sit ups. Or any combination of drills.
Featherweight
Join Date: Aug 2009
Posts: 1,297
Any kind of circuit training with little to no rest is good for cardio training at home.

Here are some good exercises to consider for a circuit home routine.

Push up variations, russian twists, leg raises, Jump squats, lunges, burpees, pull ups, bent over rows, planks

Do a variation of circuit training, and actual long distance jogging. Circuit training will build your athleticism and explosiveness, but you need the long distance stamina as well, they are both important.
MMA Fanatic
Join Date: Apr 2012
Location: U.S.A.
Posts: 2
Hi MrJoey
Yes i agree with you,it is a better post and it is fantastic thing to look at and thanks for sharing.
Banned
Join Date: Jun 2012
Location: india
Posts: 4
Proper training is must before start cardio exercise at home because if you don't have enough knowledge of cardio movements then it can make a big injury in your bones. You can do some basic stretching exercise at home.
MMA Fanatic
Join Date: Aug 2012
Posts: 3
Jumping roof is my favorite cardio workout at home. I also like to dos swimming. These are best exercises for fitness. Anyway nice topic and i like it.
milsons point personal trainer
---
Last edited by Ronaldo; 09-01-2012 at

03:07 AM

.
Currently Active Users Viewing This Thread: 1

(0 members and 1 guests)
Posting Rules

You may post new threads

You may post replies

You may not post attachments

You may not edit your posts

---

HTML code is Off

---