Quote:
Don't forget that you can use different techniques for maximizing strength/conditioning gains, even from weights that seem light. Ex: Flat bench press followed immediately by elevated push-ups. A benefit of having lighter weights is being forced to focus on form and muscle contraction during concentric and eccentric phases of each repetition.


Definitely. You'll find that kettlebells are a different type of monster. The only time I suffer from DOMS (delayed onset muscle soreness)is after a powerlifting workout or kettlebells workouts. A 15lb. kettlebell can make you sore in ways a 15lb. dumbbell can't.



Supplementation is your call based on an assessment of your diet.

Protein- A lot of personal trainers and fad dietitians say the more protein you eat the more fat you lose and muscle you gain. This is true to a point; a gram of protein does have a higher thermic effect than a carb or fat gram, and is absolutely necessary for new muscle development. However you can still get fat from over-eating protein and if you don't stimulate muscle growth your body won't build muscle. I'd say keep your protein intake to around 1 gram per pound of body weight. I'm hovering around 185 right now and consuming around 190 grams of protein per day.

Vitamins- If you're eating a healthy mix of vegetables and fruit a multi-vitamin is unnecessary. You won't hurt yourself with moderate vitamin supplementation, but you won't see a huge benefit from it either if you have a balanced diet. A basic Walmart brand multi-vitamin will work if you're dead set on adding a vitamin.

Creatine- Your call on creatine. You'll notice a moderate increase in mass largely due to an increase in water retention and muscle glycogen, and a slight increase in strength. When I'm bulking I'll try to load creatine at about 20g per day, broken into 4 doses of around 5g. Basically I'll dump a heaping tablespoon of creatine monohydrate into my mouth, take a few gulps of grape juice and swish it around, then follow with at least 24oz of water. Just as a side note basic creatine monohydrate, the cheap stuff at Vitamin Shoppe or Walmart, is just as effective or more effective than the expensive crap like Celltech or Con-Cret. My opinion speaking from trial and error.

All of the stuff I've told you is based on my own experience, so take it with a grain of salt.
Thanks, I appreciate the advice.
I actually did my first weights workout there and concentrated on form and keeping the pump up. I noticed I was very fatigued in my muscles after and could barely pick my own arms up. I have had that before when I didnt train for a while then went back into it. So at least I know its intense and heavy enough for now.
---
Its almost as if I like to be tapped out! lol
Quote:
Lifting weights - recognizing a good program
There are many good weightlifting workout programs out there. Later on, I'm going to list several examples of them. It really does not matter which ones you pick, provided that you do them properly. You will notice that the good ones all have several things in common.
First, they are based almost entirely on compound movements. Compound movements are simply lifts that involve the movement of 2 or more different joints. For instance, a bicep curl only involves one joint (the elbow). A bench press involves two kinds of joints (elbows and shoulders). Compound is much better than isolation (1 joint), especially for beginners, for several reasons.
They do a much better job of stimulating overall muscle growth and development than isolation movements.
They allow you to work out more efficiently. You can hit every major muscle group with a small number of exercises.
They more closely resemble ways you will exert your body in real life. They are better at producing practical, useful strength.
Examples of compound movements include:
Squat
Deadlift
Bench press
Military/overhead press
Bent over rows
Dips
Chin-ups/pull-ups
Clean & jerk
Isolation movements aren't evil or worthless, but they are a poor choice for beginners interested in overall muscular development.
Second, related to the first, good programs work out the entire body. You will never get the results you want just doing your arms or chest; it doesn't work that way.
Third, good workout programs make you move a substantial amount of weight. Doing some girly program where you do a huge number of repetitions with tiny weights won't do you much good (including if you are, in fact, a girl). To stimulate muscle growth at the expense of just carrying fat around, you have to place a substantial load on the muscle. That means using enough weight that you can only do 5-10 repetitions of a compound lift before needing a rest. The exact number of repetitions or sets you do isn't important, but you can't get results without placing a real load on your muscles.
Fourth, good programs have you using barbells and/or dumbbells, not machines. Machine exercises are inferior to using free weights in almost every situation. Any workout program that is based around using machines is almost guaranteed to be stupid and mostly a waste of your time. One exception you might consider is a lat pulldown machine if you aren't strong enough to do chin-ups and don't have an assisted chin-up machine available, but even here the real exercise is markedly superior. Further reading: Why weight machines are bad for almost everyone.
Lifting weights - general guidance for following any program
Track your progress in writing! I can't emphasize this enough. Write down how much you lifted & how many times you lifted it every session. You won't have any sense of concrete progress if you don't, and you'll lose track of your lifts and screw things up. Every week, focus on beating your numbers from last week. If you cannot do this, it's time to analyze your diet and your sleep habits, because something is wrong.
Don't be afraid of barbells or dumbbells. The key to safely using them is to focus on good technique (form), and to increase the weight you are using gradually. Only do the exercise for as long as you can do the exercise properly and control the weight. If you can't control the weight, reduce the weight until you can.
Do a good warm-up. A few minutes of light cardio is a good general warm-up. Then before you do each exercise, do 8-12 reps with very light weight. Many weight lifting workouts have a built-in warm-up, where you start with a light weight and then increase the weight gradually with each set.
It is not important what weight you start with, but where you end up. Be conservative at first, but from then on constantly try to add weight or increase the number of repetitions for every exercise from workout to workout. If you do this, you'll be working very hard soon enough. 2.5% more weight per week is a realistic goal, and at first you may gain more like 5%/week. That sounds small, but it adds up to a huge strength improvement in a year.
You have to push yourself to get results, but don't be stupid. Soreness and stiffness are normal; genuine pain is not. If you hurt yourself, give yourself plenty of time to 100% recover from an injury before you start again, or you'll just re-injure yourself.
Most barbell exercises can be substituted with their dumbbell equivalent, or vice versa, and achieve the same training effect. As a beginner, you may find it easier or more comfortable to work with dumbbells, and this is fine. The only exceptions are squats and deadlifts, because it can be difficult to get enough weight on dumbbells without making it very awkward.
You need days off from lifting. Do not try to lift on off-days in a lifting program in an effort to make faster progress; you'll over-train and start doing worse, not better.
Lifting weights: example programs
The following are good, proven programs to follow for weight lifting. The key thing to keep in mind is that you don't need a perfect program for you, because one doesn't exist anyway. You just need to follow a program that is fundamentally sound and work hard at it. Some of the programs are more bodybuilder-oriented or athlete-oriented, but in truth they all do the same basic things and work on the same basic principles. For a normal person working hard at them, they'll produce the results a normal person would want: more strength, more muscle and less fat.
Starting Strength:
http://newbie-fitness.blogspot.com/2...-strength.html
http://startingstrength.wikia.com/wi..._Strength_Wiki
I like this program a lot, though I would recommend beginners do dumbbell rows instead of Pendlay Rows or Power Cleans (because they are easier to do correctly), and stick to the military press instead of the optional hang cleans (for the same reason).
Bill Starr Linear 5x5:
http://madcow.hostzi.com/5x5_Program/Linear_5x5.htm
This is a very good, basic workout from a renowned strength coach.
Big Boy Basics:
http://www.t-nation.com/readTopic.do?id=459533
This program is a bit more complex than the other two and incorporates more workouts per week, but is definitely worth a look.
Lifting weights: A simple beginner program
People seem to be put off by the programs I've linked to, either because they can be a bit jargon-heavy, or because they seem to be aimed at the hardcore bodybuilder or athlete. They are, but the reasons these programs work them are the same reasons they'll work for you; they're fundamentally sound weightlifting programs. Keep in mind that you won't be dieting or taking supplements like those guys, and you'll be starting with weights you can handle and working your way up gradually. So there really is no problem with a normal person - male or female - who just wants to look and feel better doing one of these programs.
That said, there seems to be a big demand for a much simpler starter program. So here it is: Sean10mm's "Stripped" 5x5. This program combines some of the best elements from Starting Strength and 5x5 and presents them in a format easy to understand.
http://www.liamrosen.com/fitness.html#part4
---
If a law is unjust, a man is not only right to disobey it, he is obligated to do so. ~ Thomas Jefferson
Sig by D.P.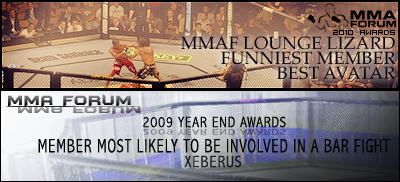 I actually follow that kind of thing.
I do a 3 day split but I mix it up a little.
Day 1 is pushing
Bench press 3 sets of 5 reps
Incline Press same
Overhead Press same
Then I do high rep isolations

Day 2 is pulling
Deadlift 3 sets of 5 (have to be careful as my back is injured)
Bent over rows same
Then Isolation

Day 4 is legs...you get the idea.
---
Its almost as if I like to be tapped out! lol
Here is my actual new work out. Critisism is welcome. Dont be too harsh though
Also my week starts from Friday which is mainly because of my shift pattern at work. Also Im out of mma training at the moment as I am just recouperating my strength and cardio for next years new start.
Friday
Dumbell Bench- 2 sets of 6, 2 set of 2
Incline Bench DB- 3 sets of 6
Narrow Turn db press- 2 sets of 6
Mill Press DB- 3 sets of 6
Tri Pulldowns- 3 sets of 6
Saturday (Cardio)
Rowing Machine- 10 mins
Tred Mill- 10 Mins
X trainer- 10 mins
CIRCUIT
Clean and press x 20
Situps x 20
Hypers x 20
Ball twist x 20
Pressups x 20
Do this 3 or 4 times
Sunday- Break
Monday
Deadlift- 2 sets of 3
S/l Deadlift- 2 sets of 3
B/O Rows- 3 sets of 6
Pull- 3 sets of 6
Seat db curls- 3 sets of 6
Lat Pull- 3 sets of 6
Tuesday (Cardio)
Rowing Machine- 10 mins
Tred Mill- 10 Mins
X trainer- 10 mins
CIRCUIT
Clean and press x 20
Situps x 20
Hypers x 20
Ball twist x 20
Pressups x 20
Do this 3 or 4 times
Wednesday- brea
Thursday
Squats- 3 sets of 6
Leg Extend- 3 sets of 6
Leg Curl- 3 sets of 6
Calf Raises- 3 sets of 6
---
Its almost as if I like to be tapped out! lol
Currently Active Users Viewing This Thread: 1

(0 members and 1 guests)
Posting Rules

You may post new threads

You may post replies

You may not post attachments

You may not edit your posts

---

HTML code is Off

---