southpaw's Training Log
---
I've never done a training log before but I though I'd give it a go.
Stats
Height-5' 9"
Weight- 148lbs
Bodyfat- 9% (est)
-Nutrition Requirements-
4,500 + Calories per day
180-200gm Protein Per Day
-Moderate Fat
-Low Sugar
-High Amount of Complex (Good) Carbs
Training- My goals is to put on some size, and train for MMA Conditioning
Supplements
-Alive Multivitamin
-Glucosamine + Chondroitin Sulfate + MSM
-Fish Oil
-Focus Formula (DHA, Ginko Bilboa, DMAE, Gaba) **(alternative to taking Prescription Drugs for my severe ADHD)**
-ALA (Alpha Lipoic Acid)
-CoQ-10
-Chewable Vitamin C Tablets
-White Flood (Pre Workout Energy, Intensity)
-Purple Wraath (Intra Workout Amino Acids)
-IDS Waxi Maize
-Whey Protein
Yeah it sounds like a lot but It's really not.
Sometimes I may buy a RTD Isopure or VPX Zero Impact bar to meet my protein needs for the day which usually is 1-2gm of protein per pound of body weight.
Todays Workout
-40kg Kettlebell Swings- 3 sets of 12 reps
- Squats- 4 sets
135/12
185/10
225/8
275/4
Leg Press/ Calf Press - 270lbs - 2 sets/ 12 reps
- Power Clean Front Squat - 2 sets
115/8
**Shoulder Super Set** 2 sets
Clean & Press w/ 85lbs- 12 reps
Upright Row- 8 reps
- Seated Behind the head to front press with bare bar- 12 reps
-Standing Dumbbell Shoulder Raises- 10 reps each arm @ 20lbs
2 minute Break (Sip on some Purple Wraath
)
35lbs Dumbbell Snatches-3 sets- 12 reps each arm
Olympic Bar Grip (Grip Strength) Straigh Bar- 2 sets with 115lbs 12 seconds each arm
Oblique Side Bends w/ 45lbs Plate- 6 sets of 16 reps each side
Hanging Leg Raises- 4 sets
Swiss Ball Crunches- 2 sets- 50 reps
Bicycle Crunches- 4 sets- 30 reps
Finish
1 Serving Waxi Maize
2 Scoop ON Whey Protein with Oatmeal & Banana
Tomorrow is 4th of July. Gym will not be open so I will be doing Heavy Duty Tire Flippin' and Sledgehammerin' in the front yard
Nice......

More people should have training logs.

I'll be keeping an eye on this.
Not feeling too sore today, My Obliques are sore more than anything and my Glutes are pretty wrecked as well.

Did my Tire Flipping this morning around 11.

I have a pretty long driveway (maybe 40-50 yards that has a steady hill)

I did Flips Down and and back once which totaled out to an esitmate 50 total flips.

Then Finished off with the sledgehammer 12 reps each side for 2 sets.

I'm totally spent right now. I'm taking a cold shower and then figure out what I'm going to do tonight
Also a side note. I'll be updating this log with some pics soon
Dinner Tonight
Grilled Chicken
Corn
Noodles with Garlic and Butter Sauce
1 Glass of MIlk (not pictured)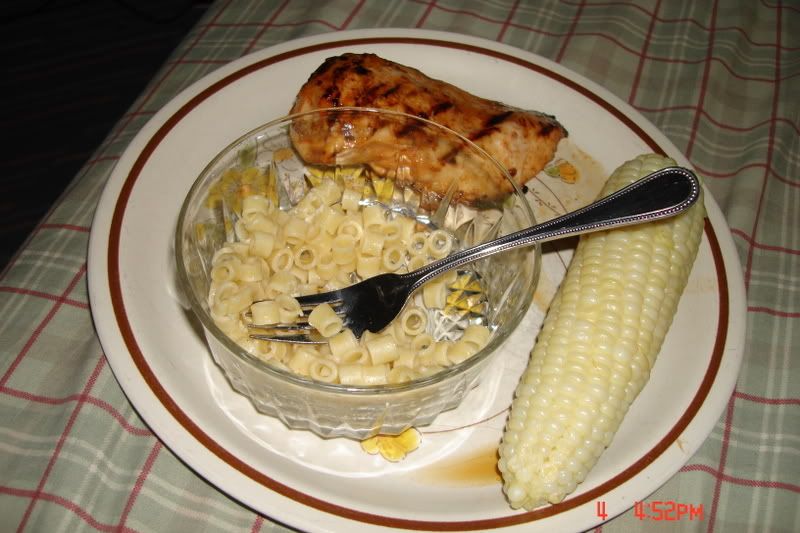 i've earned my stripes

Join Date: Jul 2006
Posts: 5,989
Good stuff Z.

Hope you achieve all the personal goals you've set for yourself.

What type of Whey are you currently cycling? Please tell me it's Optimum, cause if it isn't...you're BANNED.


P.S. - It's cool to post pics and shit, but can you make them a bit smaller from this point forward? Just so they don't stretch the page.....TANKS BUD!
---
i'm a monster
i'm a maven
i know this world is changin'
never gave in
never gave up
i'm the only thing i'm afraid of
100% ON Whey Protein Isolate- Vanilla Ice Cream. What other Whey is there?
I'll post a picture of my supp stash a little later
Holy shit with all those supplements. I don't even take Whey anymore.....
Supp Stash
This is my usual Supplement Intake
Morning with Breakfast
1 1/2 Scoop of Whey.
2 Alive Multivitamin Tablets
1 Joint Support
2 Tablet Focus Formula
Pre Workout
1 1/2 Scoop White Flood
1 Vitamin C Tablet
Intra Workout
1 Scoop Purple Wraath
Post Workout
-1 Serving Waxi Maize
- 2 Scoops ON Whey Protein with Oatmeal & Banana (sometime I add Peanut Butter too)
Dinner-
1 Alive Multi Vitamin Tablet
1 Joint Support
1 CoQ-10
1 ALA
Currently Active Users Viewing This Thread: 1

(0 members and 1 guests)
Posting Rules

You may post new threads

You may post replies

You may not post attachments

You may not edit your posts

---

HTML code is Off

---