Gringo class

Warm up with the half guard passes from last day. Technique today was side control escapes. Number one is positioning. Nearest hand to them is cupping at their waist, other hand is flat against your stomach. This is different than what my instructor teaches, who prefers the cross face. Saulo likes the former position, so I have no issues giving it a try. Once in the defensive position, first escape is to shrimp out multiple times to create space, and dive in head first to their stomach, trap a leg, hands flat on the mat, legs extended and ass up, pivot around the trapped leg and drive with your shoulder. Second escape is to bridge in the direction of the cupping hand, and drive under like the first time, except this time with your hands flat on the mat and not trapping a leg. Commonly people will have their arms wrapped around your torso, this is where you pick a side, and do a big step out with the far foot, driving your elbow behind their neck and your head into their back. So you step through and drive them forwards, then pivot to get behind them from the turtle position.

Gerbil had us drills these alot. His classes have a very simple but solid format. Just a couple techniques on a common theme or position, then chain them together and drill them. Everything gets absorbed by the end of class. Awesome.

Then we did positional drills from side control. I got to get on top of Dennis, the black belt that organizes all of us international travellers. I kept good control but wasn't able to advance position, I got reversed every time I tried. Did some more of those. Then Gerbil had us do groups of three, with one guy being the pivot, meaning the other two are alternating picking on one guy who is in a bad position. If the pivot gets tapped he does 25 pushups. We switch off every minute or two, and inbetween switches the pivot does 10 burpees. Brutal stuff. I tapped a purple once when he was getting pivoted with an americana. When I was getting pivotted I got tapped I think twice, one was a bow and arrow choke and I don't remember the other.

Then I got an 8 minute round with a white belt. I got a tennis ball to hold, which as I mentioned earlier is how Gerbil handicaps the higher belts. I tapped him the first time, then had to hold two tennis balls. I did very well with the tennis balls. I think it affects me less because I use less grips than most Gi guys because I'm often not in a Gi. I pulled off a very nice move that I invented while I was daydreaming about MMA. I locked in an arm triangle from mount, then jumped to side control to threaten it and tighten it a bit, then knee on belly, then I crept up with the knee to his armpit and somewhat awkwardly but somewhat looking like I knew what I was doing, threw my other leg over his head and took the trapped arm with an armbar. Sexy move.

I hurt my shoulder again today. It feels like not a big deal most of the time but I do one wrong thing and it gets painful real fast.
For anyone that doesn't know who I'm talking about when I say Gerbil, it's a nick name of one of my instructors here in Brazil. He has a very long running and heavily followed blog on Sherdogs Jiu jitsu forum. I get a guest appearance in his latest entry
here
.
He's quite a bit more entertaining so I'd recommend giving it a look.
I could write better, but to be honest, I don't want this journal to be a chore. It's first and foremost me keeping track of my own training and progress. When I write something for entertainment, I don't want to have to proofread or put a huge effort in.
Anyways, some of you won't click through to that log to read that very entertaining entry, so I'll steal Gerbil's pic of all of us at the all you can eat pizza earlier this week.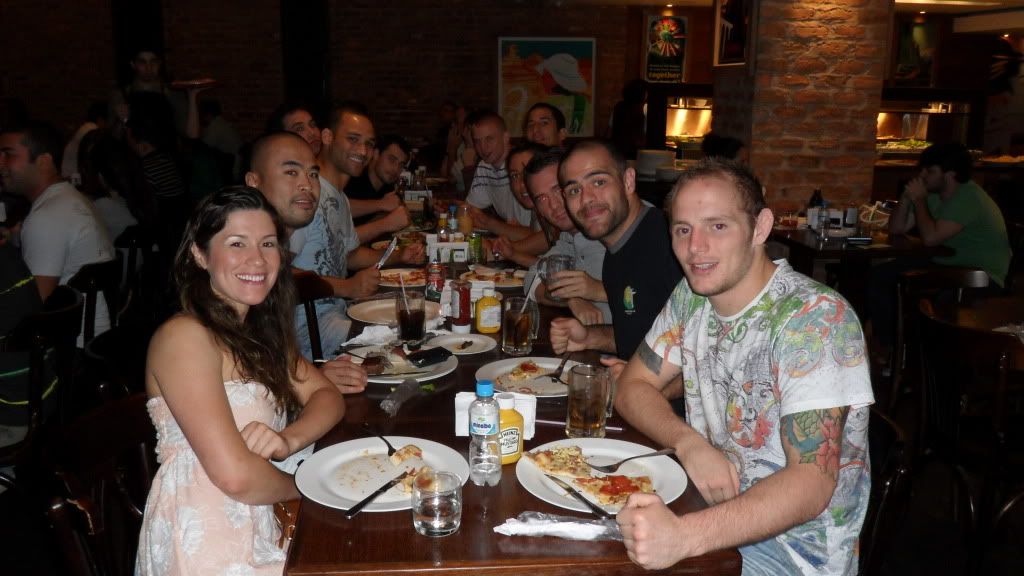 Curitiba Food and Liquor

Join Date: Dec 2006
Location: NY
Posts: 16,176
Quote:
Can't you just google that? I can't go to the beach and start zooming in on girl's asses. I'd feel like such a dirtbag.
IDK, how would I know if it was really a Brazilian azz?
The descriptions of technique are making my head spin. I think I'm going to be watching a lot of youtube clips in the weeks to come.
I guarantee you would not be the only guy with a camera zooming on girls' asses.
---

Sig Credit to Toxic

Quote:
IDK, how would I know if it was really a Brazilian azz?

The descriptions of technique are making my head spin. I think I'm going to be watching a lot of youtube clips in the weeks to come.

I guarantee you would not be the only guy with a camera zooming on girls' asses.
I may not be the only guy, but I hate being THAT guy. I do have a speedo that I'm planning on wearing to the beach one day and think I should try to get as many pictures with hot Brazilian women as I can, front and back. Does that work? I'm going to need some time to work on my tan and portugeuse skills first...and possibly be drunk, but it'll make for a hell of a time.
Gringo class.
Warm up with our side control escapes. Technique today was more side control escapes.
From the bottom defensive position. They have the far underhook, hands clasped, shoulder pressure in your neck or face. Inside hand is cupped on their hip, far hand reaches across their face, grabs at the collar for a crossface, elbow drives their head up, hand swims for underhook. Once underhooked grab at their back or at their belt and pull yourself down, sliding your elbow out to base as you come out and around. End at them turtled with your hip flat against their butt, hands controlling at the belt and inside hips.
That's the basic escape, then from there we learned some techniques when they do a wizzer from this position. First technique as they wizzer you shuffle walk around their back side and keep going, their own wizzer forces them to roll over into side control. Easy. Second technique, again with the wizzer, grab tight at their belt and clamp your arm against their back tight, because this is going to be a point of leverage. Next, your leg nearest their but is standing while the other knee drives flat against their knee, pulling with the clamped hand, and swinging you body under. This technique Gerbil calls "Jumping under the bus" because you're essentially driving yourself under them and throwing them over. You end up in side control. Sexy move.
Then we drilled these positions from side control for like 20 minutes. I did pretty good but tweaked my shoulder yet again. It's weird, it'll be fine but a little sketchy, then all of a sudden I'll do one thing a little too far and it'll be an extremely sharp pain basically rendering it useless for like 10 seconds, then it fades away pretty fast.
Then at the end we did a ten minute roll. The rules were, if you get tapped you have to do 25 pushups at the end of the round, the guy who taps you has to hold a tennis ball for the rest of the roll. If you don't get a submission, you have to do 100 pushups. I got a blue who I have some size on, he caught a simple collar choke on me and tapped me out. I got him in a triangle but he defended it well, I rolled him into a mounted arm triangle then transitioned to an armbar, he tried to roll out but I followed through and tapped him with that. Rest of the match was pretty even. That's class
I got the last of the pics of my last fight sent to me from
BC MMA Fan
. I was glad to see they got a pic of the armbar.
Ive got more good news. The house just got a new addition, our gym has shipped in a Muay Thai instructor to help prepare Raphael Dos Anjos for his upcoming UFC fight with Clay Guida. I met this guy yesterday and he was telling us a bit about himself. He used to train Kenny Florian, among other names. I cant wait to get some more legitimate muay thai training. Brazil just became the best of both worlds, striking and grappling. Im aiming to work up to do a BJJ gi class and a muay thai class everyday, and maybe substitute one or the other for a no gi class...then some burpees on saturday. This is going to get my technical skills soaring for when I get back.
That interview from a couple weeks ago went up today. I've edited my name out of it so that this log isn't easily attainable to future opponents.
Chilliwack Progress - Gentle Giant makes mark in MMA
J*** W******** swears he can do it.
The 22-year-old Chilliwack native swears he can go to Brazil, hang out near the beaches of Rio de Janeiro, and the women who frequent them, and still remain focused on his mixed martial arts training.
We wish him well.
If he can pull it off, and become a better mixed martial artist in the process, he will have taken one big step towards realizing his ultimate goal, a career in Ultimate Fighting.
In Brazil, W******** will train at Gordo Jiu-Jitsu, under the guidance of renowned instructor and third-degree black-belt Roberto 'Gordo' Correo.
"They have an international fighter program where they bring in fighters from all over the world," W******* said. "It's kind of an all-in moment for me. You can't be serious about mixed martial arts and do it at anything less than 100 per cent. After two years, I love doing it and I want to throw myself into it while I'm still young. If I'm going to do it, now's the time."
W******* graduated from Sardis secondary school in 2006, winning the Sardis Strongman competition as a senior. After graduation, he spent some time travelling through Australia and southeast Asia.
In Thailand, he enrolled spur-of-the-moment in a Mui Thai kick-boxing camp.
"It was just a month and it was brutal, brutal training, but it was the most satisfying feeling when you made it through to the end of the day," he said. "Those little Thai guys are small, but they're intimidating and they've been training their entire life. When they tell you to do something, you do it. And if you don't think you can do it, you do it anyways. They push you to levels you'd never get to on your own."
Surviving the experience inspired W*******.
He already knew he loved mixed martial arts, but until Thailand he was hedging his bets about making it a careeer. He left Thailand with an unshakable feeling that he was now capable of hanging with the big boys.
"I'm so much more focused and I'm pushing myself so much farther than I did before Thailand," he said. "I've been improving ever since I got back, and it's addictive. As you reap the rewards, you just want more."
Utilizing the expertise and contacts of Chilliwack's Revolution Martial Arts and the Revolution Fight Team, W******* has trained hard and fought twice, winning both in convincing fashion.
"The first one (in Vernon) was pretty quick," he said. "It took 44 seconds to beat the guy. We exchanged some punches, and then I dropped him with a couple knees to the body. I pounded on him until the referee pulled me off."
That fight was last October, and it took until May 29 for the next one, when he travelled to Prince George for another one-sided bout.
"This one was a little bit longer, one minute and 44 seconds," W****** recalled. "Once again, we exchanged some punches, and then I caught him with a head kick that stunned him. He took me to the ground, and I eventually caught him in an arm-bar to finish him."
Finding fights has been challenging.
W******'s trainers try to match him up against fighters of similar weight and experience, but the supply is short in a sport that is still struggling to gain acceptance at the grass-roots level.
"It's already mainstream on a national scale, especially in Canada where we've got the highest pay-per-view sales per capita for UFC (Ultimate Fighting Championship)," he said. "The sport is here to stay, no matter what, but the trick at my level is being able to fight sanctioned fights in safe circumstances. We don't want shady organizations that don't take care of their fighters. If I can't fight in B.C., I'll go to the United States or Alberta or whatever. It's going to happen anyways, so might as well give people what they want."
It took one-and-a-half years of training and sparring for W******'s trainers to green-light him for live action, a testament to the cautious approach legitimate organizations take. By the time he finally stepped into the ring, W***** couldn't have been more prepared.
"In heavy sparring they dress you up in shin pads, heavy gloves and head gear and you really go," W******* said. "But even there, when you stun a guy you back off instead of trying to hurt him, and that's the difference. In a real fight, you see them hurt and you need that killer instinct to jump on them right away. It's totally different mentally between fighting a teammate and fighting some guy who's legitimately trying to hurt you."
With that in mind, W******* admitted to being nervous before his debut bout. But he wasn't about to let some butterflies get in the way.
"It's normal to be nervous, but you can't let it get in your head," he explained. "A lot of people let it get in their heads, and they end up super intense. They lose focus on what they've trained to do, and they get exhausted real fast. It's better if you can push the nerves aside and relax before a fight."
W******* brings a more measured and cerebral approach to the sport than many of his competitors.
He struggles to harness that mean streak that many fighters consider so integral to their success, and his calm demeanor has led his coach at Revolution, Kajan Johnson, to dub him the 'Gentle Giant.'
"I'm not a violent person in real life and I like the mental challenge of mixed martial arts more than hurting someone," W******* said. "But if a guy hits you, it's instinctive behaviour to be aggressive back to him. I can turn it on when I need to, but only at the appropriate time."
W******* has taken inspiration from some of the top competitors in UFC, guys who are stone-cold calm no matter what the situation.
"There are guys who are extremely emotional, but generally you see them being reckless, wasting energy and getting caught in a mistake," W******* said. "You can get far as an aggressive, mean tough guy. But if you want to get the furthest, just be a blank slate. That's what I try to do."
Tall and lanky at six-foot-three, W******** is at his best using his reach to rain down punches and kicks from a distance. He's at his worst when an opponent gets inside and he has to engage in wrestling.
How successful he is at maximizing his strengths and minimizing his weaknesses will determine how far he goes.
"My trainers want me to win five fights at the amateur level," W****** said. "I've got two, and if I keep winning in the first round, or come back from Brazil looking a lot better, maybe they'll accelerate things a bit. From there, it's on to pro and it's all about who you beat. In this sport, it's really about who you know and who sees you. It could be a long haul or it could be quick. A lot can happen."
Get more information on the Revolution Fight Team online at
Revolution Martial Arts | MMA | Brazilian Jiu Jitsu | Muay Thai Kickboxing | Boxing | Judo
.
---
Last edited by illmatic; 07-23-2010 at

05:02 PM

.
This is the Gringo class with all the international travellers. We focus alot more on technique and drill pretty hard. To be honest the brazilians seem alot more laid back about their training. The Brazilian class is pretty much all rolling, and it can be the worst class ever, or a breeze depending on who you get. In this pic you can see there's only 3-4 white belts in the class, this is much different than any gym you'll run into in N. America. The Brazilian class is much more experience heavy, with black belts often outnumbering all the other belts combined. Often there's more black belts in one room out here than there is in all of Canada.
Gringo Class

Warmup with side control escapes from yesterday. Technique today was more side control escapes, this time from the scarf hold.

Numero um - when they are doing the scarf hold but they are leaning back towards your legs...reach your outside hand around the inside of your outside leg, swing your body for some momentum, and bring the leg over the guys head, the hand inside your knee is cupping at their chin, drive to reverse them into their side control. Sexy move.

Numero dois - when they are doing the scarf hold but leaning chest to chest, grab at the collar and crossface, other hand grabs the belt. Shrimp out, probably multiple times, until you can sit up and essentially put all your weight into driving your forearms to reverse the position.

Numero tres - when they are doing the scarf hold but instead of taking the far underhook, they are reaching under your head, grabbing their own pant leg and basically headlocking you - gable grip behind their back, walk your legs towards them you're essentially spooning, bridge slightly that way for momentum before bridging the opposite way to drive them over.

We drilled the position, then did the pivot thing for a hardcore workout, with lots of bodyweight exercises inbetween. Then I had a ten minute round with a white belt and tapped him with an armbar.

My instructors seem to want me to compete in the Rio Open in 3 weeks or so. I'm strongly considering it, just for the experience.
Gringo Class

Warmup with side control escapes from the other day. Then we worked the three side control escapes into a turtle facing opponent, then the kick through and around. Then from the kick through we learned to take the back...nearest hand grips their nearest tricep, other hand on the inside of their far thigh, arm straightens to create a temporary gap, stick your leg in, far hand reaches for an underhook and grips their forearm. Tip them to the side of the the leg that isn't hooked, lifting their body with that knee to get the final hook in. Both arms underhook and grip high at their collar, turning at the wrists so the collar drives their neck forwards. Now we're in seated mount.

We learned three finishes from seated mount, but there's one thing unique about Gerbil's seated mount. He wants you to have a gap between yourself and your opponent, whereas most will teach to be tight to their back. He explains that this is to keep them from bridging back and making life difficult for you. You scoot back pushing off with your legs and pin your head to their back. Anyways, the chokes:

1. one arm reaches over their shoulder, back of hand curves against their face for a deep collar grip. Other arm reaches for their lapel. The real power in the choke is in the elbow of the choking grip. Rip that elbow over the back of their shoulder and they'll tap fast.

2. With a more shallow grip but of the same set up, other arm traps their free forearm, they'll fall to the side to try to escape. Once again rip at the elbow and twist with your shoulder forwards and your body back, it's like a bow and arrow choke without the legs.

3. Bow and arrow choke, same set up, hand that isn't choking grabs their nearest leg on the outside, lift your legs out of the hooks and off to the far side, driving with the legs while lifting his and pulling at the collar.

We drilled these as combos starting from the side control. Then we rolled just a couple rounds. I got a white belt near my sized and dominated positionally. But the americana I did was sloppy and I ****ed up an armbar transition from the arm triangle that Gerbil scolded me on later. I need to go slower and focus on doing it technically perfect while I'm with the white belts, so less rushing it, and more controlled. Otherwise did well. Then I got another white belt that we scrambled around in alot of positions with no subs either way. Got to roll Gerbil for the second time, he seemed to sweep me at will, but I managed to find my balance and fight off one or two. Regardless, I got positionally dominated and tapped 2-3 times. I don't even remember what I got tapped with, but at least one was an armbar.

I feel alright. Body was a bit sore today and my knee made a really loud popping sound, during rolling. It feels alright now though. We'll get through tomorrow and then get some rest. I gotta talk to this Muay Thai guy and see when he starts running muay thai classes so I can start getting the two a days going.
Gringo class

Warmed up with side control escapes. Technique today was defending the baseball slide pass. First defense if they don't under hook is to deflect the sliding knee to the outside with both hands, go belly down and tackle a leg. Second defense when they do underhook, deflect the knee with the underhooked hand, free hand shoots under their body, spinning underneath them and coming out the other side, then you can move to back control. Third escape was when they have side control and are working in a knee across the belly to take mount. Get a grip on the leg that isn't trying to slide across, then block the knee that is coming across with other hand. As they force the knee on belly across, lift at the other one and shrimp your body to take half guard on the other side. If you shrimp in one direction, then the other, you can take half guard with plenty of space between the two of you, so you can move around to take back.

Then we rolled. I got 2 white belts that I beat but didn't do anything amazing with. I keep trying to force the armbar out of an arm triangle but it's too haphazard. I might want to toss that silly transition aside. Then I rolled a purple and a smaller blue and had some back and forth but overall got dominated by both. Good class. Good week. Shoulder hurts but it'll be fine.
Currently Active Users Viewing This Thread: 1

(0 members and 1 guests)
Posting Rules

You may post new threads

You may post replies

You may not post attachments

You may not edit your posts

---

HTML code is Off

---