08/20/2009
Sorry I haven't been posting lately. I have bumped up training and sparring and included more Khali/Escrima.
Sparing all the boring details practices have gotten longer and more intense. In the last week I have left the gym bloody a few times some mine and some from others. I got rocked real nice by coach in the cheek under the eye. It's ok though, I caught him on the chin. I also got him in a vicious heel hook and he just wouldn't give. In return he got me with a nasty triangle on my foot while I was working a RNC.

Nutrition is still going good however it seems I may have plateaued. I am looking into the next step to drop the next 15-20lbs.

Also I was invited by the owner of the gym John Powell to attend the John Sailor seminar for becoming an instructor on Aug. 29, 2009. Considering I love teaching this is pretty cool.
I may not be able to post everyday as I will be doing more web design and photography for the gym on top of the training. Time to put that degree to work...

I know one of the instructors got some nice shots of me training and working with some students. Hopefully I can get them posted this week.
---
Last edited by The Crusher; 08-20-2009 at

11:18 PM

.
08/26/2009:
This week has been rather light as I have been taking care of someone very close to me that had an appendicitis. So here are some pics from about a week or so ago. Just working some combos on the Thai pads. I have the white Sprawl shorts on. Will try and post some better pics as soon as they get them to me.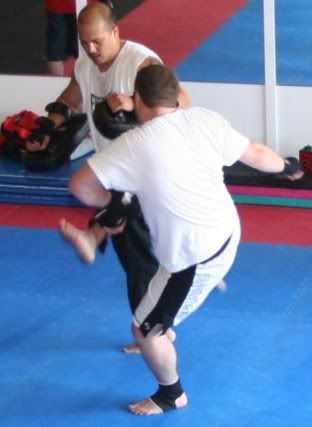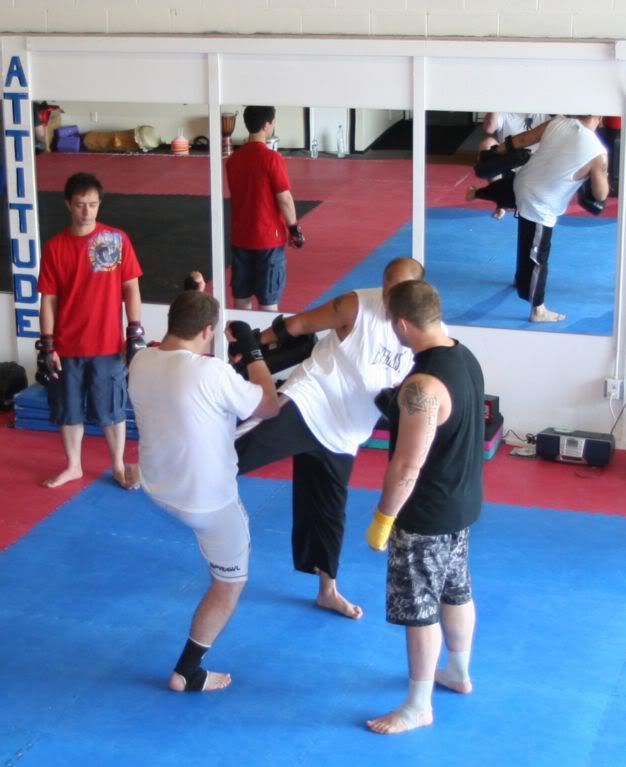 I haven't posted anything in a while and was surprised to see how many views my log had gotten and hope I can help anyone with interest or questions, so feel free to post. I have been nursing a hyperextended hip flexor and dealing with some stuff at home. To celebrate the new year I have restarted my nutrition and home workout. Which I have encorperated the Spartacus circuit into. Tonight will be my 1st night back to MMA and I am already sore from the at home workouts. Tonight I will be working out with some friends at their gym called Vision MMA.
I have also been looking in to the TRX Suspension training. Normally I am not into gimmick based workout equipment but it makes sense and hardly takes up any room at all. Most importantly it maintains range of motions as it is completely non restrictive. I am still undecided so if anyone has any experience with this please post.
Link to Spartacus circuit:
http://www.menshealth.com/spartacus/workouts/
Also my new protein should arrive this afternoon and I will post a review sometime this week. It's the mint choc. No Carb Isopure mix. I ordered the 3lb to try from DPSnutrition.net if it is good I will order a 7lb tub.
---
Last edited by The Crusher; 01-04-2010 at

02:27 PM

.
So 1st night back was lastnight... My hip felt ok although I haven't been able to throw any high kicks. We stretched and warmed up and did some drills. Then we broke off to roll. I partnered up with my buddy Terry and as he is about 2 weeks new I worked on teaching him some submissions and some drills on breaking guard and controlling posture etc. Then we rolled for a bit. I showed him some proper kick technique and some punch combos which I later used in sparring.
2 of my buddies there have fights coming up so I sparred with them and realized not only had my cardio sufferes but my reaction time is slower as far as reading punches and I have fallen into some old habits that I will have to break again.
Nutrition is whiping me out at the moment but should get better. I feel very sore at this point and am easing into my workouts.
Thanks for the support and encouragement.
I forgot to mention my kicks were solid and still had some speed when I did rapid fires and my inside leg kicks seemed to be just as vicious as they were before and my hooks were dead on.
Currently Active Users Viewing This Thread: 1

(0 members and 1 guests)
Posting Rules

You may post new threads

You may post replies

You may not post attachments

You may not edit your posts

---

HTML code is Off

---