MMA Fanatic
Join Date: Jul 2007
Location: Gulfport MS
Posts: 23
one more question
---
I'm 5'8 199lbs I'm a power lifter so i'm strong but i'm short with no reach do you think i should cut wieght to a lighter wieght class are stay oppinons would be very appretiative
hrmm thats a weird question... i'd recommend staying close to your natural weight, however you should prob cut down to 185. your still at a disadvantage but its small, if ur a better fighter than the guy ur fighting and your in better shape and stronger it wont mean anything that hes taller and has more reach.
---
If a law is unjust, a man is not only right to disobey it, he is obligated to do so. ~ Thomas Jefferson
Sig by D.P.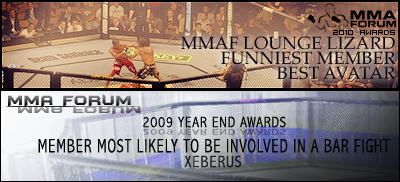 Quote:
Originally Posted by Killa228
I'm 5'8 199lbs I'm a power lifter so i'm strong but i'm short with no reach do you think i should cut wieght to a lighter wieght class are stay oppinons would be very appretiative
Yeah, I would say stop lifting so much and slim down to a natural 180 ish and cut down to WW.
You're pretty short for a LHW.
The LHW's I train with are all up over 6 feet by a few inches, you would have a hard time dealing with a 6 or 7 inch difference.
Fight at 185, try to lose fat(if you have any) and maybe some muscle mass.
---
What a stud
Quote:
The power of Aleks, his small baby and pimp hardcore dogs has granted you useful insight, my friend.
oh man....how much extra weight are we talking about? like if you can stand to lose like 15 pounds even before cutting you should do that first...just take the 2-3 months to lose it for good then you could prob cut to ww....you could prob dom too since you're a powerlifter you'd have sicko throws and slams
---
The surest way to corrupt a youth is to instruct him to hold in higher esteem those who think alike than those who think differently.
Friedrich Nietzsche
MMA Fanatic
Join Date: Jul 2007
Location: Gulfport MS
Posts: 23
Thanks for the advice and i could cut down to 185 i got some fat to burn
Currently Active Users Viewing This Thread: 1

(0 members and 1 guests)
Posting Rules

You may post new threads

You may post replies

You may not post attachments

You may not edit your posts

---

HTML code is Off

---