MMA Fanatic
Join Date: Mar 2008
Posts: 46
when ever you are grabbing a handful of gut and or love handles you are grabbing truglycerides. the problem with alcohol "The liver can detoxify about one ounce of alcohol per hour (equivalent to 12 ounces of beer or 4 ounces of wine). In the meantime, however, glucose tends to be further processed into triglycerides which raises their blood levels". the average fighter doesn't know this info or doesn't adequate nutrition experts this why so many of them lose their fights, due to poor endurance.
Curitiba Food and Liquor

Join Date: Dec 2006
Location: NY
Posts: 16,176
Did it specify loose tea, or bagged, or anything else like that so I can go out and get some?
TEA. for oh nevermind.
---

Sig Credit to Toxic

---
Last edited by swpthleg; 03-23-2008 at

10:37 AM

. Reason: no teabag jokes you sick bastards
MMA Fanatic
Join Date: Mar 2008
Posts: 46
http://healthandfitness.sympatico.ms...ect=&abc=abc&d
"Splurge: Mashed potatoes
Considering that a serving of mashed potatoes can have up to 300 calories (gulp!), I had to come up with another option so I could keep my girlish figure – and still enjoy the best of the comfort foods.
Solution: Mashed cauliflower
Cruciferous cauliflower to the rescue! It's oh so healthful and delicious, no one (including you) will know the difference between these guys and whipped potatoes. Take 1 head of cauliflower and chop it up into florets. Throw it in a 2-quart stock pot; add in 1 cup of chicken broth and cover. Steam the cauliflower on medium heat for 20 minutes, or until fork-tender. Add more broth if necessary. Pour the cooked cauliflower and broth into a blender; add 1/4 cup olive oil and 1/2 teaspoon sea salt. Blend to desired consistency: less time for a chunkier texture, more for a creamier one. Mmmmmmmm! Serves 4; 70 calories per serving."
http://www.canadianliving.com/health..._stomach_2.php
A food all must consume that scientifically shrinks belly fat!
" Skip the Thai, meet for sushi instead
A recent Japanese study found that fucoxanthin, a compound in brown seaweed, shrank abdominal fat in lab animals, and encouraged a five to 10 per cent weight loss. Human studies are next, but the scientists are excited. And you should be too, if you love Japanese food. Order that miso soup or seaweed salad. Not only do these low-fat appetizers contain seaweed, they'll fill you up so you won't pig out on that caloriepaloooza known as tempura".
http://body.aol.com/diet/basics/trans-fats-food
One tablespoon of margarine contains 2.5 grams of trans fat while a tablespoon of shortening packs a whopping 4 grams. now you know boxers don't margarine and butter remember 450 grams= 1 pound of fat.
Losing weight that fast is bad... nay horrible for your body.

A friend of mine got on one of those diets and sure he lost 50lbs and fast... but he looks awful and has tons of extra skin... not to mention he is slower, weaker and has way less energy than he used to. A lot of that weight was muscle and muscle density no doubt.
---
If a law is unjust, a man is not only right to disobey it, he is obligated to do so. ~ Thomas Jefferson
Sig by D.P.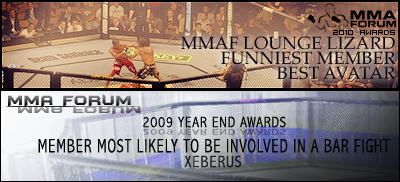 MMA Fanatic
Join Date: Apr 2008
Posts: 7
that's too much too fast man
Hey, i am having trouble gettin rid of my fat, especially on my abs. Anyone got some advice on nutrition, diet or exercise?!
---
Favorite Fighters:
Tito Ortiz
Jon Koppenhaver
Jared Rollins
Chuck Liddell
Quinton Jackson
Matt Hughes
GSP
MMA Fanatic
Join Date: Mar 2008
Posts: 46
http://health.yahoo.com/experts/eatt...ds-that-arent/
We've identified six of the most misunderstood foods in America, so that next time you think you're doing your body a favor, you actually will be - by looking for something else that actually is healthy.
1. Bran Muffin
440 calories
23 grams of fat
35 g sugars
Made primarily with sugar, refined flour and hydrogenated oil, it's like starting your day with a candy bar. Actually, it's like starting your day with two candy bars, since this misunderstood muffin has more fat and calories than two Kit Kat bars.
2. Chicken Caesar Salad
900 calories
60 grams of fat
Caesar salads suffer the consequences of two natural disasters: a flood of fatty dressing and a blizzard of Parmesan cheese and croutons. All told, it's a caloric catastrophe - equal to scarfing down 20 Chicken McNuggets!
3. Tuna Melt
950 calories
55 grams of fat
Plain tuna out of the can is healthy; tuna drenched in mayo, shrouded in melted cheese, and slicked with another layer of dressing is not. You'd be better off eating three six-inch roast beef sandwiches from Subway!
4. Chicken Wrap
700 calories
35 grams of fat
How wraps got such a good rap is beyond us, since they're really just oversized tortillas, packing up to 400 calories on their own - that is, before the onslaught of cheese, meat, and dressing it houses! You'd get the same number of calories from 20 strips of bacon.
5. Turkey Burger
850 calories
50 grams of fat
At home a turkey burger might be a decent choice, but in the restaurant world it means high-fat ground turkey, heavy mayo, melted cheese, and a big, pillowy bun. It's the equivalent of three 8-oz sirloin steaks.
6. Fruit Smoothies
600 calories
120 grams of sugar
Unless it says 100 percent fruit, your "fruit" smoothie is likely made with ice cream, sugar, high fructose corn syrup, and a few token chunks of banana. All told, this popular afternoon snack has as much sugar as six Haagen Dazs Vanilla and Almond ice cream bars. Ouch.
MMA Fanatic
Join Date: Mar 2008
Posts: 46
Arlingtonsldr
It all comes down to calories and fat grams as mentioned in previous post if you can get your caloric intake down to 2000 carbs and fat under 450 grams a day you'll be well on your way to shredded abs. it's working for me.
MMA Fanatic
Join Date: Mar 2008
Posts: 46
eat beef jerky to shred!
---
I have done research with bodybuilders and jenny craig and they have informed that beef jerky makes a snack which is high in zinc and protein. and takes away cravings for sugar and flour i.e chips and crackers
Curitiba Food and Liquor

Join Date: Dec 2006
Location: NY
Posts: 16,176
Salad dressing is a diet train wreck waiting to happen. i steam or eat vegetables raw. I don't like fruit except berries, b.c i believe they have the most fiber and vitamins of all fruits, is that right?
---

Sig Credit to Toxic

Currently Active Users Viewing This Thread: 1

(0 members and 1 guests)
Posting Rules

You may post new threads

You may post replies

You may not post attachments

You may not edit your posts

---

HTML code is Off

---