a question for everyone who is training right now
---
i was wondering how long did you guys wait to start training from when you decided you wanted 2 train and ummm do you guys use any fat burning or muscle building supplements
---
knowing chaos makes you enjoy tranquility
I started boxing way before MMA was popular :P

I naturally played football in high school and was in good shape, when I started taking it seriously I started taking protein suppliments.

Once you decide to train, take 2-3weeks to build your cardio. While looking for a gym for whatever fighting style u want to learn or a "mma gym".
---
If a law is unjust, a man is not only right to disobey it, he is obligated to do so. ~ Thomas Jefferson
Sig by D.P.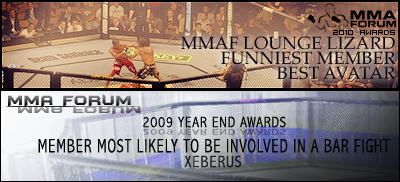 MMA Fanatic
Join Date: Jun 2008
Posts: 2
I started trining in american kickboxing ages ago.
Once i saw MMA fights and decided to start training it took me 1 week to find the right gym and I dove right into it.
Like anything you really want to do DIVE IN AND MAKE IT WORK!!
pff I was working out at my gym then saw the mma gym, went in talked to the professor and about 1month later I was training 4-5times a week
---
Believe.
there is no such thing as a "fat burning supplement". Anything that advertises itself as such is simply out for your money. Ephedra was the closest thing to a fat burner, but to my knowledge it is banned in most plances since it is used in production of methamphetamines.
The only muscle building supplement is protein. If you have trouble putting on weight you can supplement with HMB or Bromelain which aid in protein absorbtion. The majority of supplements arent necessary for people who aren't professional athletes.
---
Evil will always triumph over good...

Because good is dumb.
MMA Fanatic
Join Date: May 2008
Location: NJ
Posts: 25
If you have a good diet you shouldnt really need any supplements at all. Im going to start training in muay thai first and ive been weight training for months not trying to get bigger or stronger but to gain endurance and lose weight. Im trying to get down to 185-190. Nutritionist told me my lean body weight is about 175. Im naturally pretty strong and an OK boxer, ive got a 73 inch reach, and im only 5' 10. So i figure thats a good base to start on
---
Last edited by isphius; 06-03-2008 at

11:35 PM

.
Flyweight
Join Date: May 2007
Posts: 244
Man I've been drifting from style to style from one gym to another since the age of six.
---
[SIGPIC][/SIGPIC]
Currently Active Users Viewing This Thread: 1

(0 members and 1 guests)
Posting Rules

You may post new threads

You may post replies

You may not post attachments

You may not edit your posts

---

HTML code is Off

---