Whats a good warmup?
---
Thats it. Whats a good warmup before you train?
what i'll do maybe before lifting is do some pushups some jumping jacks to get my blood running, and i have a light weight i use to get my muscles ready.

as for my martial arts training i stretch alot, once i'm done i run for awhile to get some blood running, maybe do some light sparring
Usually between a half mile and mile run as a warmup, dynamic stretches, and some shadowboxing to get loose.

For weights I'll do the run and the dynamic stretches before I begin, then before each exercise I'll do a few light sets to get the muscles warm and work all the kinks out.
---
"I don't want them to like me, because when I'm in the ring, punches fly to the face. It is not a tenderness time. I am not falling in love. And he knows that when the fight starts I am kicking faces."
- Wanderlei Silva
That's a little vague.

A Warm-up for...

A Fight?
A Workout?
ok i go on a short run down behind the local homeless shelter. give a bum 5$ to kick my ass and I have to survive with lateral movement, bobbing/weaving and I can only use to left jab until i circle him twice. i can use either hand for single punches but no combos, hooks, uppercuts. 4 circle i can throw the 1-2 but i cannot end the fight. 6 circles i can use anything I want. the warm-up ends when one of us is unconscious.
that tends to get me goin
---
If a law is unjust, a man is not only right to disobey it, he is obligated to do so. ~ Thomas Jefferson
Sig by D.P.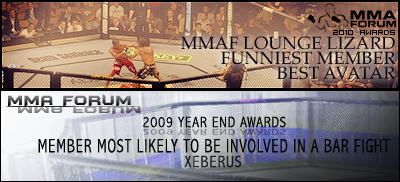 MMA Fanatic
Join Date: Dec 2008
Location: Austin TX
Posts: 46
I just do a few "light" rounds of shadowboxing. Just to get my heart rate going.

Edit: The guy above me has some pretty unconventional tactics.
---
Last edited by pushaton; 12-08-2008 at

08:01 PM

.
Currently Active Users Viewing This Thread: 1

(0 members and 1 guests)
Posting Rules

You may post new threads

You may post replies

You may not post attachments

You may not edit your posts

---

HTML code is Off

---