Crunches just don't do the job anymore...
---
For the past few months, I've done ab workouts about 6 nights a week. I do a lot of crunches and crunch variations, but I just don't feel them working too well anymore. Any suggestions or exercises?
---
Natural Born Killas +44
Crunches have, and always will, be a waste of time. Do ab pulldowns using a lat-style machine, hanging leg raises, or weighted decline situps.
im sorry, i made a post about badass exercises you can do (the ones i do) for abs, but i am way way way to ****ed up to even remember where i posted that.

g/l lol. i had to re-read my post to remember what i was posting to xD
---
If a law is unjust, a man is not only right to disobey it, he is obligated to do so. ~ Thomas Jefferson
Sig by D.P.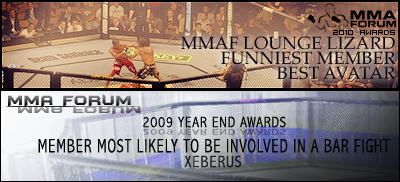 Currently Active Users Viewing This Thread: 1

(0 members and 1 guests)
Posting Rules

You may post new threads

You may post replies

You may not post attachments

You may not edit your posts

---

HTML code is Off

---