i keep getting cut hands
---
ey fellas, wen i work out i useually, put a bit of soft cloth over my knuckels, then wrap them up properly, then chuck on the gloves or mits, after a fairly decent work out, wen i pull off my crap, knuckels are always split, bruised n bleeding, it doesnt hurt that much.. its jus an incovnvience, esp in a job interview. i need advice.. does anyone else have this problem?
---
aussie
Banned
Join Date: Apr 2007
Posts: 1,393
This happens to everyone. You need to make sure you are wrapping your hands properly, if you are unsure, ask your instructor to help you. Try using a different hand wraps.. maybe longer ones, so you can wrap your hands a few more times.

When you are hitting the heavy bag, don't go 100% strength.. Eventually you can go harder on the heavy bag, but allow your knuckles to get conditioned for it. Slowly work your way, and your hands will toughen, and this won't happen as often.
Are you using 16oz or 4ozs? Try moisturising your hands before and after, they could be cracking because they're dry.
---
NYBA Champ @ 170!
BEST EVA!
MMA Fanatic
Join Date: Jan 2009
Location: Australia
Posts: 4
I only seem to get cut up knuckles with bare hands. Make sure your knuckles are completely healed before hittin the bag again, and i agree with the above : try more intensity than power and slowly toughen your knuckles up. hope that helps
I've never heard of anyone getting scraped knuckles with gloves on, much less with gloves AND wraps. I'm thinking that either you're not wrapping your knuckles properly or your gloves don't fit right. If everything's done right, your knuckles should have at least 3 or 4 layers of wrapping on them - tight enough that it doesn't move at all while punching - and your gloves should be tight/fit well enough that they don't move around much.

Either way, wait until your knuckles heal before getting back to the heavybag. Eventually the skin'll start to toughen up and it'll stop happening.
---
"I don't want them to like me, because when I'm in the ring, punches fly to the face. It is not a tenderness time. I am not falling in love. And he knows that when the fight starts I am kicking faces."
- Wanderlei Silva
If you have damaged the skin on your knuckles before by hitting the bag without gloves and/or wraps then it doesn't matter if they are wrapped or not they will still break open. Let them heal completely and don't hit the bag or pads without gloves and wraps. there are multiple ways to wrap your hands and most can be found easily online. It is worth looking at, because the wraps are there to protect more than your knuckles. Good Luck!
what kind of/how old are your gloves? You just might need new or different ones.

But I would attribute it to dry skin. So, moisturize and take some time off to heal. Especially with job interviews.

Good luck!
posted in the wrong thread xD
---
If a law is unjust, a man is not only right to disobey it, he is obligated to do so. ~ Thomas Jefferson
Sig by D.P.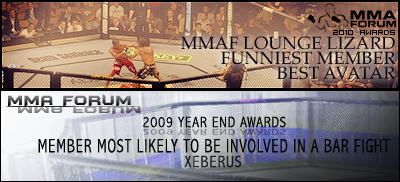 Currently Active Users Viewing This Thread: 1

(0 members and 1 guests)
Posting Rules

You may post new threads

You may post replies

You may not post attachments

You may not edit your posts

---

HTML code is Off

---