MMA Fanatic
Join Date: Feb 2009
Location: Granite Bay
Posts: 94
nutrition
---
Hey guys, I am new here and I was just curious about nutrition. I eat only healthy things, I try to get double my bodyweight in protein each day and I eat things like tuna,eggs,peanut butter,chicken,lean meats,whole wheat protein breads,protein bars,milk,vegetables and fruits. I eat about 2200 to 2500 calories per day(2200 on weekdays, 2500 weekends) with high protein, medium carb, low fat. I weigh 135 pounds at 5 foot 9 inches so yes im very lean. Does this sound fine? My caloric intake? How do you guys eat, maintenance calories or do you guys just eat and not really think about it?
Homicidal Maniac

Join Date: Apr 2007
Location: Houston, Texas
Posts: 6,193
you actually might get more responses on this thread in this section of the forum
http://www.mmaforum.com/training-nutrition/
I would move it to that section but I have not figured out how to do that yet lol. but I have no problem with it being in the lounge, but you might get a better answer to this in the section I linked you to
---
Over! 2,000,000 Views!
It depends on what you are trying to achieve. I'm on a bulk. I don't count calories. If I had to guess I'd say I eat around 4500-5000 calories per day.
Banned
Join Date: Jul 2007
Location: Alberta Canada
Posts: 2,543
a few years ago i had to watch what i ate all the time, but lately i have been able to eat anything and EVERYTHING and i gain barely anything, the lightest i have been in 2 years is 73 highest 176. I'm assuming you are trying to gain mass, damn man i'm 5'10, 175 you are hella lean lol
Wow your really lean man I am like 5'8-5'9 around 160 lbs and I am trying to watch what I eat. When I use to do karate I didnt borther watching but now I have too not doing it for over 5 or so years.
---
Eat healthy, but limitless calories, lift heavy and low reps. You need a hell of a lot more calories if your doing decent cardio.
---
If a law is unjust, a man is not only right to disobey it, he is obligated to do so. ~ Thomas Jefferson
Sig by D.P.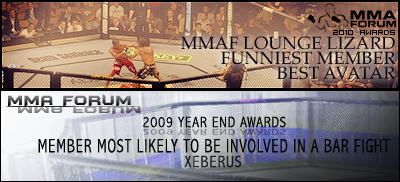 MMA Fanatic
Join Date: Feb 2009
Location: Granite Bay
Posts: 94
Yeah its just tough to eat all the time with high school. I eat a pretty big breakfast usually either
-a 6 egg omelet(4 whole, 2 whites) with roast beef mixed in and a some fruit OR
-3 egg sandwich on whole wheat protein bread and some fruit OR
-1 and a half cups of oatmeal with wheatgerm mixed in and some fruit

I eat any of those 3 at like 6:45 before school and then I have a protein bar at 9:15, then my next meal, lunch is at 11:20 and its usually
-organic peanut butter on whole wheat bagel OR
-albacore tuna on whole wheat bagel OR
-roast beef sandwich on protein bread
any of these 3 with fruits and vegetables and some other random item like a trail mix bar or for instance tomorrow roasted potatoes

I get home at 3:00 and take NoXplode and workout from 3:30 to 4:30 and right after I down a whey protein shake and a banana. At 5 pm I eat my fourth meal which is usually 8 oz of tilapia fish. Then at 6 PM I eat dinner with my family which is always healthy stuff like
-steak w/ veggies and rice or something similar.

That is on strength training days which I do at my house, on days where I go to the MMA gym I eat the same but just at different times. Anything in here you guys suggest I change or any advice or does it look ok? Keep in mind I am trying to grow but VERY SLOWLY, I want all the weight gained to be lean muscle mass and I am willing to wait because I am after strength not size right now. Thanks!
Banned
Join Date: Feb 2009
Posts: 50
I dont count my calories.......I just ate.If you want to gain weight,eat a lots of red meat.
Currently Active Users Viewing This Thread: 1

(0 members and 1 guests)
Posting Rules

You may post new threads

You may post replies

You may not post attachments

You may not edit your posts

---

HTML code is Off

---