Cant Gain weight!
---
So whats the best way to gain some body mass quickly? I cant gain weight no matter what I do! I was going to start using something other then muscle milk! Because other then tasting delicious I havnt had any change in any way! Any advice?
?
Banned
Join Date: Apr 2007
Posts: 1,393
whats your current body weight?
how many calories do you eat a day?

eat a ton.. lift a ton.. and youll gain weight.
142 is my avg walking weight. Im trying to be at 155. I work out everyday as well as work at a very physical job. Im not sure on how many calories I have a day I'll have to start keeping track.
MMA Fanatic
Join Date: Jan 2009
Location: Pasadena, MD
Posts: 44
It's as simple as this. Take in more calories. Eat more. If you want to pack on lean muscle mass, that's through protein. For every gram of protein you take it equals 4 calories. It'll take more time to do it the right way since it's lean mass but sometimes people pack on weight, lift heavy, and then trim down at a later date. My personal preference is just ear right. That way you live a healthier lifestyle.
Eet moar!!!
---
What a stud
Quote:
The power of Aleks, his small baby and pimp hardcore dogs has granted you useful insight, my friend.
MMA Fanatic
Join Date: Feb 2009
Posts: 25
Dude, the key is eat alot, and train extremely hard. After you train hard, take protein/creatine.
Increase your alcohol and fried food intake 10-fold....also quit your job.
---

Quote:
Increase your alcohol and fried food intake 10-fold....also quit your job.
HAHA! this just made my day!
Eat more calories, life higher weight less reps, do less cardio.
---
If a law is unjust, a man is not only right to disobey it, he is obligated to do so. ~ Thomas Jefferson
Sig by D.P.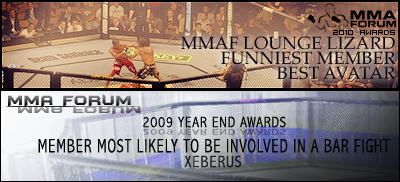 Currently Active Users Viewing This Thread: 1

(0 members and 1 guests)
Posting Rules

You may post new threads

You may post replies

You may not post attachments

You may not edit your posts

---

HTML code is Off

---