MMA Fanatic
Join Date: Nov 2007
Posts: 24
Motivation
---
hey ppl how ya doin??? well to start off for the past 2 years ive been training and i ve been really in shape but now things changed a bit and i havent trained in some time now. i have lost shape alittle and i can feel the difference in my strength i want to start training again and i try but all i do is 1 week training and i stop. but now i seriously want to start training again i want to get back in shape.... do you know something to get me motivated again pleasee tell me thanks alot
---
every second your not training somebody out there is getting better than you.


Is that what you had in mind?
If you want it enough you will do it. If you don't you won't. Asking people on the internet to motivate you is pathetic.
I keep a few bottles of Prohormones and Designer Steroids on my night table.

It keeps me constantly tempted and reminds me to train hard and stay natural.

It works but I wouldn't recommend it to the inexperienced
the way i see it i think when i skip a workout everyone else is lifting and they're getting better than me

so i like keeping that in mid to stay tip top shape
Here's your motivation....you don't want to end up some douchebag on a forum asking people you don't know for advice about how to be motivated, that would just be sad! Oh wait....
---

When I need a little motivation I speed ball heroin and cocaine, while a dog licks peanut butter off my genitals and a hooker strangles me. It always seems to lift my spirits.
---
If a law is unjust, a man is not only right to disobey it, he is obligated to do so. ~ Thomas Jefferson
Sig by D.P.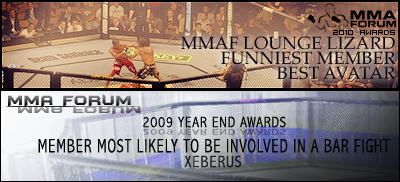 MMA Fanatic
Join Date: Apr 2009
Posts: 2
Supplement-wise? You could try some caffeine/coffee before you work out, though that only works for so long. But it might be a quick fix in the short term if you don't already have a high caffeine tolerance.
Interestingly, though I didn't buy it for "motivation" (more for strength/energy), Lightspeed helped BIG-time in the that area. MAJOR, non-wired mental/physical motivation and intensity booster. Pretty cool. You know how some days you just have to drag your ass to the gym, then when you get there you lie down on the bench to start benching and you just want to close your eyes and go to sleep? Not with this stuff. Pretty freakin' cool. Haven't had a lame workout since I've started using it, and that's sayin something.
I was looking for it in the stores near me but couldn't find it so far. I get it straight from their site,
www.lightspeedlabs.net
.
You could also try the various ginsengs, but I found them to be more "calm your nerves" type supplements for the most part, not really "motivating." Except for siberian ginseng, which just made me REALLY wired, and not in a good way. That was no fun at all.
i always feel pretty shitty and guilty whenever i miss a training session, whether its cardio, weight training or mma, my advice would be you just need to hit weight training hard for a week or two get addicted to the endorphins or "get the bug" and then when your weight training you will want something to train for and whether its for looking better or training for a sport start shaping your workouts around things that will benefit your goal best, this worked for me when i first started to train
---
Favorite Fighters
Joe Lauzon
Jon Jones
Michael Bisping
Kendall Grove
Chris Leben
Chuck Liddel
GSP
Currently Active Users Viewing This Thread: 1

(0 members and 1 guests)
Posting Rules

You may post new threads

You may post replies

You may not post attachments

You may not edit your posts

---

HTML code is Off

---