How much does training cost where you are at?
---
Man I'm checking this one place out and it is pretty expensive. There lowest package is $135 per month for up to 8 days of training per month. I know its a decent gym, Rory Markham comes from there, I know thats not saying much but he is/was in the UFC and they have a few olympic calibur wrestling coaches. But damn that feels like a lot of money to me. Would you go there? Or do you think I would be better off finding somewhere else?
HeadlessNorseman?
Join Date: Oct 2008
Posts: 131
My bjj/grappling place is 115 a month for unlimited everything, althought they only have about 4 classes a week. Once i feel like buying a gi i can do the real BJJ classes. Other places I have been to are 100-200 a month, ranging from a muay thai place to tiger shculmans. So that seems about right. If you can train with olympic caliber wrestling coaches, I wouldnt pass that up for anything
MMA Fanatic
Join Date: Apr 2010
Posts: 4
I pay $145/month.

Includes access to everything, 6 days a week ranging from yoga, extreme cardio workouts, boxing/kick boxing & jujitsu/wrestling.

they are open from 4:30pm to 9:30pm, and the schedule is mixed up, but consistent.

edit1: if you sign up for a one year deal, it's $100/month
Invictus Maneo
Join Date: Sep 2009
Location: Boston, MA
Posts: 983
My gym is different, you can pick and choose what you pay for so Boxing class with Boxing Instruction and access to the gym from 4am - 9pm is $69/month and those classes are everyday except fridays and sundays.

MMA is 3x a week and includes boxing instruction and access to the gym and that is $89/month

BJJ is 2x a week at our gym but you can go to the other gyms the BJJ blackbelt teaches as well.. and that is $119/m no access to the gym or boxing included (it all goes to the BJJBB) also add in $140 for the Gi.

Kickboxing is 2x a week, I know he teaches at some other places but i don't know if he lets people hop around with him... that thats $80/m with no acess to the gym or anything because you pay him directly and not the gym owner.


And when I first started at Reality self Defence now known as Lauzon MMA, I was paying 65/month for unlimited training everyday except saturdays. Now i think its closer to $100/m
---
MMA Fanatic
Join Date: Nov 2009
Posts: 36
at Carlson Gracie its like $120 a month for 3 days a week, but the thing is YOU pick and choose how LONG you are going to train there on a given day and WHAT classes you want to take. They offer BJJ, wrestling, muy thai and boxing and well its a good deal.

Its like $150 unlimited and again you choose how long you train and what classes you take, good place too. During the summer there is a student only discount so its less if your in high school or college.

Pretty beast in my opinion.
Bantamweight

Join Date: Aug 2007
Posts: 802
Just do like I do and skip the training all together... put that money into beer and you'll feel like you can kick anyones ass. You can't-- but you'll think you can.
Saves money.
If you're starting out try a more reasonable gym. Learn the basics and get in shape for 6-12 months.. see if you like the sports and feel cut out for it. Then if you want to step up your game try the more expensive one.
I pay 159.99 a month for full access to gym, kickboxing, boxing and bjj.
---
If a law is unjust, a man is not only right to disobey it, he is obligated to do so. ~ Thomas Jefferson
Sig by D.P.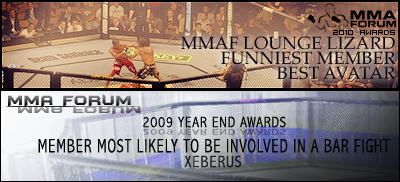 MMA Fanatic
Join Date: Apr 2010
Posts: 13
I train out of Gracie Barra, we have 12 available lesson per week, ranging from BJJ, Muay Thai, Judo, and strength and conditionig courses for $145 a month.
---
Mitsuyo Maeda - Carlos Gracie - Carlos Gracie Jr. - Marcio Feitosa - Tim Shears - Me.
Join Date: Oct 2009
Location: Ohio
Posts: 2,719
Well, TRAINING is a blanket term for a lot of things. I'll break down the various components.

1. School. In my area the schools/dojo's are few(less competition higher prices)but they vary between $60-$150 per month but that includes Karate/TKD schools as well as MMA schools.

2. Equipment. Weights alone equate a significant portion of this segment. Free weights vary dependant on where you buy them and size, but I've found they'r overpriced as shit, no matter where you go(approx $0.60 per pound). Buying the bench as well as a straight bar and two dumbell bars equates to another $300(approx). Buying a heavy bag alone is around another $100-150(a stand for one if you wanted it is another $100-150). Buying gloves as well as thai pads, and focus mitts equates to another $100-200. If you wanted to buy a mat thats another (approx)$100 for 5x10 ft. around $200-250 for a 10x10 space.

3. Apparel. Fighting related clothes are not limited to TapouT and Affliction. All sport related clothing is an option. Rash Guards, fight shorts, base layers, shoes. Each item listed is between (approx)$40-90. I like to support certain brands. Since almost all of my MMA gear is Everlast, I prefer Everlast clothing.

Now nothing listed in section 3 is compulsory, as well as most of section 2 is not as well, but much of it is tremendously helpful and should be considered. Suffice to say, training to be an MMA fighter isn't cheap by a longshot!
---
Sig courtesy of that photo-matic magician limba
Quote:
I went out the way that I fight. I went out on my shield. Thatís it. Done. --Chuck Liddell
Quote:
My goal is to end my opponent --Carlos Condit
Currently Active Users Viewing This Thread: 1

(0 members and 1 guests)
Posting Rules

You may post new threads

You may post replies

You may not post attachments

You may not edit your posts

---

HTML code is Off

---