MMA Fanatic
Join Date: Aug 2010
Posts: 3
The standard approach for diabetic neuropathy is as follows. A non-steroidal anti-inflammatory drug such as ibuprofen; acetaminophen; drugs which work on the nerve membrane such as gabapentin (you are not on the maximal dosage); drugs which work on the nerve synapse such as amitriptyline; opioids such as tramadol hydrochloride. I am not saying that you will need all of these categories but it should give you an idea that there is a great deal more that your physician will be able to do besides just prescribing gabapentin. If I may be of further assistance please let me know. I wish you the very best of health and in all things may God bless.
MMA Fanatic
Join Date: Aug 2010
Posts: 99
Whenever I start hurting... I just stop acting like a vagine and then I get over it.

Join Date: Mar 2010
Location: NC.
Posts: 9,815
Quote:
Whenever I start hurting... I just stop acting like a vagine and then I get over it.
goddammit bob is that you? That's what you told me when you turned my head 380 degrees!
---
oxycontin
---
"Existence precedes essence"
- Jean Paul Sartre
My podcast/blog:
http://lifeashumans.blogspot.com/
Funniest thing you may ever find on the internet:
www.gentlemanbob.com
or look for gentlemanbob on facebook
NPFFL: Cain Velasquez, Demian Maia, Lyoto Machida, Joseph Benavidez
MMA Fanatic
Join Date: Aug 2010
Posts: 99
lol I got negged for that comment? Wow, I was obviously kidding
Banned
Join Date: Nov 2010
Posts: 4
Patients suffering from painful conditions of the options need to help their doctors to treat the pain symptoms.This information Richard Walker, a retired consultant in pain management is a website run by. It is pain. In its most benign form, it warned us that much right, that we should see a doctor medicine or not.
MMA Fanatic
Join Date: Apr 2011
Posts: 5
Using pain relief creams are best for the health. Now a days it is very much popular in market. Exercise and yoga helps you more. There are no side effects of it as well as better to take advice of doctors.
Banned
Join Date: Sep 2011
Posts: 1
Natural Pain Reliever
---
I was reading your site's suggestions here regarding what to take for pain. I totally agree with most anti-inflammatory options. I just thought I'd leave you with one amazing combination I've been doing. I pinched a nerve in my neck which prevented me from training. The only solution was take time off or fix it. What actually worked effectively was taking a pain relieving product called vicozen and doing acupuncture. Within a few days I was back to training with no down side...only 2 treatments.
Vicozen
comes in a shot form and I was doing hot Chinese style acupuncture where they stimulate the pins with electrodes. Why the need for Vicozen, well you can take any anti-inflammatory plus pain killer but this product does both and it's all natural...like herbal medicine. This combo beats anything else out there. Just thought I'd share. Check it out at
Vicozen
umm..
winner?
This crap is like anti-pain and makes you feel great, regardless of anything else.
The words of an addict: You don't need a job, or a girlfriend, someone to love.. you dont need a family.. as long as you've got oxy.
---
If a law is unjust, a man is not only right to disobey it, he is obligated to do so. ~ Thomas Jefferson
Sig by D.P.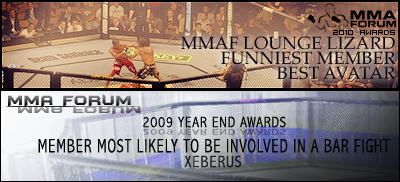 MMA Fanatic
Join Date: Jan 2012
Posts: 5
Hey
---
I personally enjoy when i feel pain in my joints,im not a masochist or anything like that :P but i feel the effects of the training,i dont recomend you to take meds.You're not sick!
if you dont like the joint pain,use Ice after training
Currently Active Users Viewing This Thread: 1

(0 members and 1 guests)
Posting Rules

You may post new threads

You may post replies

You may not post attachments

You may not edit your posts

---

HTML code is Off

---