Flyweight
Join Date: May 2010
Location: Spring Lake, NC
Posts: 243
Whats the best time frame to cut 30 pounds?
---
I have been pondering this for awhile now. I finally decided that I wanna stay at Heavyweight. Since cutting and maintaining weight is somewhat of a hassle and I think it takes to much time I could be using training for fight imo.
Anyways, I'm 5'11/6'0 and Im around 250 and 19 years of age. The frame Im looking for is a sturdy one. I dont want too much muscle since that will cost me my speed and cardio. I plan on having frame like:
Fedor Emelianenko
fedor-emelianenko.jpg
Tsuyoshi Kohsaka
1287164-260_l_thumb.jpg
These guys have perfect cardio for HW along with strength for their height. Im leaning more towards TKs build because he has less fat than Fedor.
Overall, I want to know whats the perfect time frame to lose 30 lbs without killing myself.
---
6'0 254 lbs 1-0 Amatuer
BW: Masakazu Imanari FW: Hastu Hioki LW:Eddie Alveraz WW: Mauris Zaromskis MW: Hector Lombard LHW: Christian M'Pumbu HW: Sergei Kharintonov
I would say with a good workout and diet plan 4-6.5months
---
If a law is unjust, a man is not only right to disobey it, he is obligated to do so. ~ Thomas Jefferson
Sig by D.P.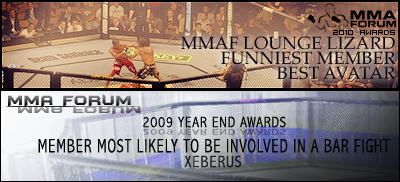 Flyweight
Join Date: May 2010
Location: Spring Lake, NC
Posts: 243
my next fight is june 18. how much weight can I lose by then?
---
6'0 254 lbs 1-0 Amatuer
BW: Masakazu Imanari FW: Hastu Hioki LW:Eddie Alveraz WW: Mauris Zaromskis MW: Hector Lombard LHW: Christian M'Pumbu HW: Sergei Kharintonov
Currently Active Users Viewing This Thread: 1

(0 members and 1 guests)
Posting Rules

You may post new threads

You may post replies

You may not post attachments

You may not edit your posts

---

HTML code is Off

---