vBookie Event

: Demetrious Johnson vs Ian McCall (UFC on FX 3)
This event is over.
UFC on FX 3: Demetrious Johnson vs Ian McCall
---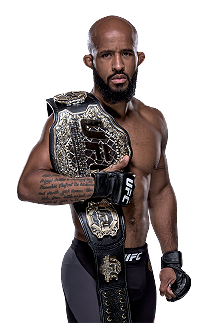 ---
Quote:
Round 1 - Troy Waugh officiates this flyweight main event. Touch of gloves and we're underway. Johnson with a low stance. Both trade leg kicks. Johnson ducks under a punch and fires off a high kick. McCall closes and tries for the takedown but gets stuff against the cage. Johnson knees the legs, then gets the takedown. McCall sitting against the fence and tenderizing flanks. He sits up and lands a knee from the clinch. Johnson peels off with a punch. JOhnson kick the leg. McCall closing in. Johnson jobs and kicks him off. Johnson trying to make McCall think about the takedown. McCall swarms with punches but misses. Same thing on the next exchange. McCall in pursuit, chasing and missing. McCall stops and catches a shot to the body. Leg kick for McCall. Johnson lands a straight right that drops McCall, and Johnson is working to pass on the mat. McCall with butterfly hooks, and Johnson wheels around to the back and then grabs the torso against the cage. McCall counters with knees. Johnson tries a lateral drop, but McCall pops up and they're back up. McCall is in pursuit again, and they clash legs. McCall presses Johnson to the cage, but can't get the takedown. Johnson goes high with kick. McCall scores with punch off combo. He misses a kick and Johnson has to reset. Johnson grabs the takedown, but McCall reverses, and they share a smile. McCall advancing again, tries a kick against the fence. Side kick for Johnson. B ody kick for Johnson McCall chases Johnson down and catches a kick to the body. He also catches Johnson's kick, but the round ends before he can do anything with it. MMAjunkie.com scores the frame 10-9 for Johnson.

Round 2 - McCall throws something out of the cage, and we're back. McCall catches a kick and swarms with punches. He takes Johnson down off the fence, but Johnson scrambles up. McCall chases with punches but resets. high kick for McCall and he scores with a right hand that rocks Johnson. They trade leg kicks, and McCall is back on the pursuit. He punches in and the two lock up against the cage. They trade position before Johnson resets. Johnson scores with a punch and a knee in close. McCall stalking. Johnson combo misses, but follow up kicks land. McCall fires back with same. A kick catches Johnson's cup, and we pause. After a brief break, we're back. They trade low kicks, and McCall gets a takedown that lasts two seconds. He's got JOhnson against the cage and is driving for the takedown again. He maneuvers to Johnson's backh and suplexes Johnson to the mat. Jhnson gets back up and lands with punches before pressing Johnson against the cage. Knees against the fence for both. McCall reverses and spins with an elbow. Johnson pursues and can't get the counter. Johnson charges in and McCall stuffs him, but he reverses and then escapes to open mat. McCall stalking in, Johnson trying to keep him on his toes. Johnson scores with a combo. McCall comes back and catches another punch. Right hand lands for Johnson McCall with high kick. JOhnson goes to the body with a kick. McCall jumps in with a knee and sweeps Johnson to the mat. Johnson pops up and round ends with McCall holding a leg once again. MMAjunkie.com scores the frame 10-9 for McCall.

Round 3 - McCall closes after taking a low kick. Johnson misses with a right and they lock up. Johnson presses to the cage and breaks off. McCall charges back and tries for the trip. No dice. McCall pursues and misses the shot, but presses Johnson against the cage and works knees. Johnson attempts to go high with knees in close. McCall with short elbows. They break, but soon, they're back against the cage, and Johnson dumps McCall to the mat. McCall is again sitting against the fence as Johnson tries to put him on his back. McCall gets up and JOhnson gets to his back, then peels off with a right hand. Low kick for Johnson. PUnches score for Johnson. McCall misses a trip but tags Johnson on the follow up. Brief trip for McCall. McCall goes to the body and eats a left hand before shoving JOhnson to the cage. He drops for a takedown, then tries a flying knee. McCall lands low kick and takes a glancing right. Big body shot for Johnson, who's having more success in close this round. McCall is pursuing and presses Johnson to the fence. He drops for a takedown and they trade knees. Gives up and peels off. Nice right hand for JOhnson. McCall still in pursuit, Johnson trying to kick him away. He again presses JOhnson to the cage, and they trade knees. Another break off and after another exchange, it's Johnson pressing McCall to the fence, looking for the takedown. he's got a leg of McCall's and gets Johnson to the mat briefly before McCall pops up and they trade to clinch at the end of the frame. Crowd chants for one more round. MMAjunkie.com scores the round 10-9 for Johnson, giving him the fight 29-28. Demetrious Johnson def. Ian McCall via unanimous decision (29-28, 30-27, 29-28)
http://mmajunkie.com/news/29075/ufc-...ve-results.mma
---
Why hasn't this book been settled yet?
---
Always Supporting Fighters That Fight to Finish or be Finished

Edson Barboza
Jose Aldo
Conor McGregor
Nate Diaz
Donald Cerrone
Gabriel Gonzaga
Brandon Thatch

lol I think ppl hate Johnson for some reason.
Or, they're waiting in case judges got it wrong again & it was a draw?.
---
Hard work is the only real PED.
Prospects -- Doo Hoo Choi, Ashlee Evans Smith, Mickey Gall, Sage Northcutt, Thomas Almeida, Yair Rodriguez, Lorenz Larkin, Robert Whittaker
Currently Active Users Viewing This Thread: 1

(0 members and 1 guests)
Posting Rules

You may post new threads

You may post replies

You may not post attachments

You may not edit your posts

---

HTML code is Off

---