vBookie Event

: Urijah Faber vs Renan Barao (UFC 149)
This event is over.
UFC 149: Urijah Faber vs Renan Barao
---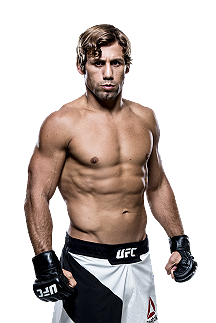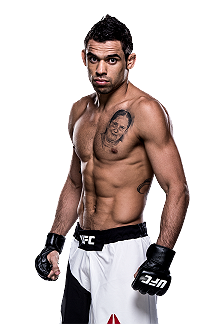 ---
Faber as the dog eh?

OK. I'll bite.
---
Sig credit: MC
~ Lifetime Membership sponsored by RustyRenegade ~
i really like faber but i want to see cruz fight another guy.
---

Kovalev - Golovkin
215k on Faber, the underdog that shouldn't be.
---
vBookie Record: 16-9

Current vBookie Bets:

Quote:
Round 1 - Referee Mario Yamasaki in the cage for the evening's main event. Barao misses a high kick to open. A second one comes shortly after. Faber rushes forward but eats a few punches and doesn't get inside. Barao with a front kick to the body. Faber moving frequently in the early going and blocks another high kick. Barao wants to kick the lead leg, but Faber not leaving it there for him. Spinning back kick for Barao. Knee to the body lands as Barao unleashes a flurry. Barao misses another high kick. Hes firing that quite often. Final minute. Barao misses another spinning kick. Faber having trouble getting inside, but he looks full of energy. Barao chops the lead leg and returns with one of his own. Faber with a straight in the final seconds. Round ends, and MMAjunkie.com has it for Barao, 10-9.

Round 2 - Faber out quickly and looks to rush in with punches. Barao stays away well and returns with long straight punches. Faber works in with a stiff right. Barao is the aggressor right now, but he catches an eyepoke and takes a quick break. Barao with a flying knee on the restart and a quick flurry of punches. Faber recovers quickly and lands a right hand an inside leg kick. Halfway into the round. Barao digs to the body. Faber answers with rapid punches, but he's short with his reach. Barao lands a right hand. Faber switching stances and remaining active, but he's not piecing together much offense. Barao kicks the leg. Flurry from both in the final minute. Another leg kick from Barao. Punches miss from Barao. Round ends, and MMAjunkie.com sees it again for Barao, 10-9.

Round 3 - Faber leaps in with punches to open, but Barao answers with a leg kick and a flurry of punches. Faber sweeps the leg, and Barao hits the deck, but he pops up before anything of consequence. Barao rushes with a flying knee, but Faber pulls away. More leg kicks from Barao, who looks extremely comfortable and is cruising right now. Halfway mark of the fight. Faber shoots in, but Barao stuffs him and backs away. Faber gets in with uppercuts, but Barao walks through them. Barao continues to land with his kicks, and he just shoves Faber away when he tries to move inside. Final minute. Stiff jab from Barao. Faber still firing power shots, but he's not landing with any power. MMAjunkie.com sees another one for Barao, 10-9.

Round 4 - Barao looks relaxed as we enter the championship rounds. Faber still bouncing and moving. They lock hands briefly, and Faber lands a lead hook. Faber still moving fairly well, but he's also struggling to land anything with real power. Faber punches to the body. Barao misses a spinning kick but recovers before Faber can take advantage. Two minutes in. Barao has slowed down a bit. Faber lands a stiff right, and he's poked in the eye. Barao apologizes, and it's a quick restart. Stiff jab from Barao, but Faber there to answer. Faber tries to catch a leg but can't get Barao off-balance. Barao picks up the pace a bit and lands with punches to the face and another shot to the leg. Faber's lead leg is reddened badly. He's still active but just can't seem to generate any real dangerous attack. Better moments for Faber, but Barao takes it again on the MMAjunkie.com card, 10-9.

Round 5 - Faber still looking to bounce and remain light on his feet. Barao looking to walk forward and continue the attack. Faber is the busier fighter, but Barao doing a good job of backing away and countering. Faber grabs a leg kick but can't do anything with it. Faber jabs. Barao lands a few straight punches and changes his stance, extending his arm and looking to fire straight shots. Faber grabbing his opponent's extended hand, and the crowd wants something else. Final minute. Faber is going to need something special, but he can't penetrate Barao's length. Barao with a wild karate-style look to close. Fight ends, and it wasn't spectacular. MMAjunkie.com sees the final round for Barao, 10-9, awarding him the fight 50-45. Faber may have stolen a late round. Renan Barao def. Urijah Faber via unanimous decision (49-46, 50-45, 49-46) to become interim bantamweight champion.
http://mmajunkie.com/news/29770/ufc-...ve-results.mma
---
Currently Active Users Viewing This Thread: 1

(0 members and 1 guests)
Posting Rules

You may post new threads

You may post replies

You may not post attachments

You may not edit your posts

---

HTML code is Off

---