vBookie Event

: Jonathan Brookins vs Charles Oliveira (TUF 15 Finale)
This event is over.
TUF 15 Finale: Jonathan Brookins vs Charles Oliveira
---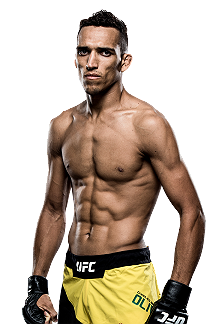 ---
Like 'em both, love Oliveira's flashiness and expect him to TKO Brookins, but 25k on the dog for value.
Wow great odds for Brookins. Gonna toss me 275k on that furry beast.
---
mad props: Toxic
Quote:
Like 'em both, love Oliveira's flashiness and expect him to TKO Brookins, but 25k on the dog for value.
feel the same way
lookin 4wd to the fight, should be explosive
---
Favourite Fighters
Anderson Silva
Mark Hunt
Bisping
Fedor
Machida
Pettis
Aldo
McGregor
'John' Wayne Parr
Nathan 'Carnage' Corbett
Bruce Lee
Quote:
Round 1 - Referee Kim Winslow in charge of this featherweight fight. Oliveira with an early low kick, chopping at the lead leg of his southpaw opponent. Brooking in the center and looking to find his range. Knees traded inside. Oliveira circles to the center of the cage and lands a stiff right. Oliveira kicks low again. Oliveira knee lets Brookins take him to the floor. Oliveira turns to take the arm, and Brookins backs away. He wants to push back in, but he can't find an opening, so Winslow lets Oliveira stand. Oliveira stalks on the restart. Big right hand lands, and Brookins is on wobbly legs. He clears the cobwebs quickly, but Oliveira continues to push forward with low kicks and straight punches. Brookins answers back in the pocket, briefly halting the assault. Oliveira kicks the body and continues to walk forward. Brookins answering back, and he draws blood before the bell, but MMAjunkie.com sees it for Oliveira, 10-9.

Round 2 - Oliveira lands an early low kick to the groin, but Brookins carries on. Brookins finds some success with uppercuts inside. They break apart, and Oliveira has blood on his forehead. Oliveira scores a big right, but as he moves in for a takedown, he lets Brooking snag his neck. Oliveira scores a takedown, but he's still in the guard of his opponent with his neck trapped. He pulls it out shortly after and lands a few short elbows. He latches onto his own guillotine from the top with a sweet modified grip, squeezing tight and forcing the submission. Nice work from the Brazilian.
Charles Oliveira def. Jonathan Brookins via submission (guillotine choke) - Round 2, 2:42.
http://mmajunkie.com/news/28986/the-...ve-results.mma
---
Currently Active Users Viewing This Thread: 1

(0 members and 1 guests)
Posting Rules

You may post new threads

You may post replies

You may not post attachments

You may not edit your posts

---

HTML code is Off

---