vBookie Event

: James Te Huna vs Joey Beltran (UFC on FUEL TV 4)
This event is over.
UFC on FUEL TV 4: James Te Huna vs Joey Beltran
---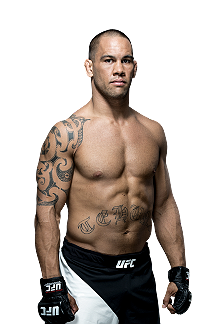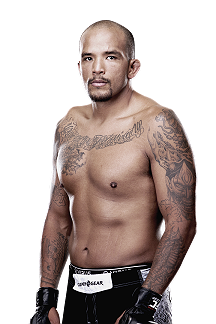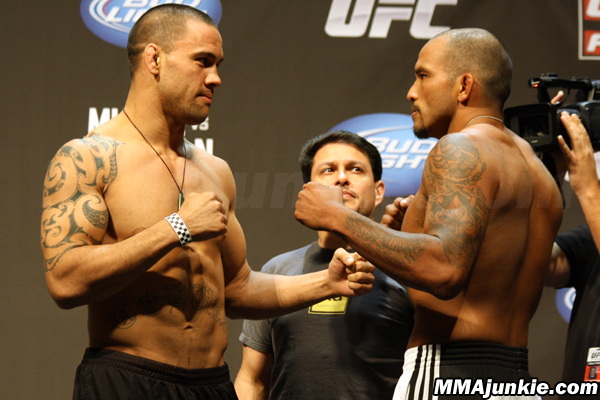 ---
Quote:
Round 1 - Referee Jason McCoy oversees this light heavyweight co-feature. Beltran jabs early, but Te Huna stands in the pocket and answers back. Te Huna kicks the legs, as well. Te Huna works to the body, as well, but it's a right hand up top that scores and sees Beltran cover against the cage. Te Huna looks extremely relaxed as he walks forward and fires straight punches. Te Huna also chopping away at the legs. Beltran kicks to the body, and he's retreating and looking to counter. Two minutes in. Te Huna picks up the pace a bit. He's slipping and countering well. Te Huna thinks takedown but elects to back away. Lefts and rights land for Te Huna. Beltran grabs the head and scores with two knees, but he can't keep any sustained offense. He does wrap the body and slow things down. He breaks away with less than a minute remaining. Beltran lands a right, but Te Huna comes right back with powerful hooks that topple his opponent. Te Huna goes to mount and tries to punch for the finish. Beltran slips out the back door and to his feet, and Te Huna keeps punching. Beltran in trouble, but he survives until the bell. He's cut under the left eye as he walks back to his corner, and MMAjunkie.com gives the round to Te Huna, 10-9.

Round 2 - Te Huna looks comfortable as he moves forward again. Beltran ires a head kick, but it's blocked. Te Huna walking down his opponent, avoiding any serious counters and looking to deliver a knockout shot. He digs to the body. Beltran works in a few jabs, and Te Huna drops for a takedown, leading to an audible moan from the crowd. Te Huna works from his opponent's guard. Beltran drives in a few elbows to the top of the head, but there's not much happening, and Rosales calls for a stand-up. Beltran looks energized on the stand-up. He defends another takedown and then kicks the legs. Te Huna seemed to be in control earlier, but he may be tiring. Final minute. Te Huna isn't breathing hard, but his output has dropped. Beltran misses a high kick. Te Huna throws a front kick to the body. Odd pace from Te Huna, and Beltran takes advantage of it in the closing seconds, clipping Te Huna for a flash knockdown. Still, as the round ends, MMAjunkie.com gives it to Te Huna, 10-9.

Round 3 - Beltran picks up the pace on his jab. Te Huna answers with a little more output. He's stalking and in control, but he's playing with fire by not finishing. Beltran drives into moves inside and looks for a takedown. He lets it go and eats a hook before Te Huna scores his own takedown. He doesn't stay there, backing up and letting Beltran follow. Traded punches. Te Huna has a bit more zip, and he ducks down for another takedown. He backs away and lands a right overhand as Beltran stands. Beltran is huffing and puffing, and blood is trickling from his nose. Te Huna cruising and looking for takedowns in what has turned into an odd fight. Te Huna seems to be missing a gear of intensity, and Beltran drops levels and takes the fight to the floor. Te Huna climbs up to his feet. They break with 30 seconds left and trade punches to the chin. Te Huna doesn't look any worse for the wear, and they flurry again in the final seconds, bringing the crowd to life. Fight ends in the pocket, and MMAjunkie.com gives the third to Te Huna, awarding him the fight 30-27. James Te Huna def. Joey Beltran via unanimous decision (30-26, 30-27, 30-27).
http://mmajunkie.com/news/29620/ufc-...ve-results.mma
---
Currently Active Users Viewing This Thread: 1

(0 members and 1 guests)
Posting Rules

You may post new threads

You may post replies

You may not post attachments

You may not edit your posts

---

HTML code is Off

---