vBookie Event

: Joseph Benavidez vs Demetrious Johnson (UFC 152)
This event is over.
UFC 152: Joseph Benavidez vs Demetrious Johnson
---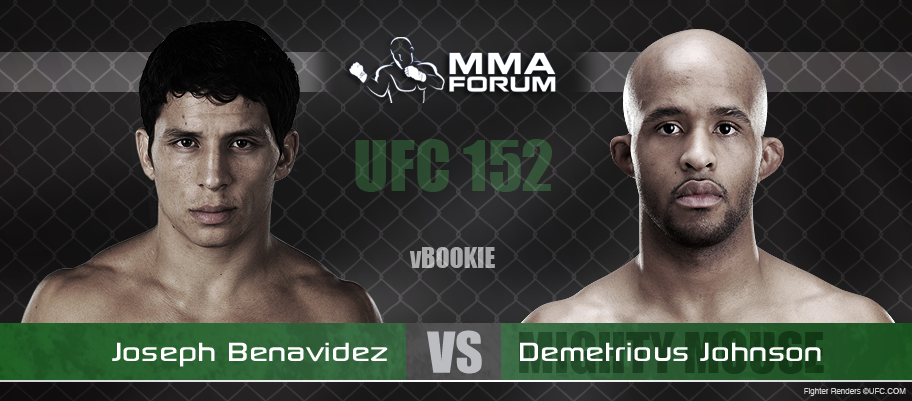 ---
man....such a tough fight to call.......fan of both.

shoot ill go with the finisher vs. the scrappy guy.

they made this div. so benavidez could be champ.

i cant bet against him
---
JUST SCRAP
Joe takes this easy. Tags Johnson late second early third and finishes the fight.

Sent from my Desire HD using VerticalSports.Com App
---
Think. It Ain't Illegal Yet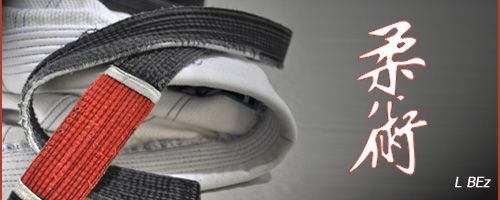 "Discipline Hurts Less Than Regret"
Benavidez for the win.
---
vBookie Record: 16-9

Current vBookie Bets:

Join Date: Jun 2009
Posts: 20,902
Taking Benavidez here and I expect him to hold onto the belt for a long time.


Sent from my iPhone using VerticalSports

Join Date: Mar 2010
Location: NC.
Posts: 9,815
To answer HexRei..bet it on Benavidez.
edit: oops not sure why I confused Hex and Dudeabides
---
Quote:
Round 1 - Here we go. Five-rounder for the first UFC flyweight title. History in the making, and Yves Lavigne will oversee it. Benavidez throws a right, and Johnson lands a right before they tie up. Benavidez pushes Johnson forward and they clinch on the cage. Johnson looks for knees with his back on the cage. He spins out and lands a nice knee. Body shot for Benavidez. Good straight right from Johnson. Benavidez looks for a takedown, but it's not there. He lands a right on the way out. Again they tie up on the fence. Spinning backfist from Benavidez just misses the mark. Benavidez stalking and they tie each other up on the cage. Kick from Benavidez after the break. Johnson tries an inside leg kick, then lands a nice right hand. Benavidez comes forward, though. Johnson gets a nice combo off. Johnson gets a takedown at the end of the round. He'll get a 10-9 round on the MMAjunkie.com card.

Round 2 - The crowd cheers a fight in the expensive seats. Fun start to the round. Benavidez looks for a kick, but it's off the mark. But a few seconds later, he lands to the body nicely. Good right hand from Benavidez. Inside leg kick from Johnson. Benavidez chases Johnson and lands a few rights to back him up. They tie up briefly, but then break. Good left from Benavidez. Johnson misses over the top, and Benavidez tries to take him down. But nothing there. Outside leg kick from Benavidez, and then a nice right hand. He looks for a single, but he can't get it and Johnson just misses a knee on Benavidez's way back up. A few good lefts from each guy. Then a nice left from Benavidez backs Johnson up, then a left-right from him. MMAjunkie.com gives Benavidez a 10-9 round.

Round 3 - Benavidez comes forward a little quicker this round. He throws a kick, then a left-right. Benavidez just misses a high kick. Benavidez just misses a body kick, then another – but Johnson can't catch it to capitalize much on it. Right hand from Benavidez is good, then another. Then an inside leg kick. The crowd is booing, which is kind of hard to believe. They trade and each duck under a few shots. Benavidez gets a takedown, but Johnson is up quickly. Benavidez ties him up, but they break. Good combo from Benavidez. Benavidez gets poked in the eye, it seems, and he reaches for it quickly. But Lavigne tells him he didn't see it. Again the crowd boos. Johnson with a right hand that just misses. Benavidez comes quickly right at the horn. MMAjunkie.com gives the third to Benavidez, 10-9.

Round 4 - Traded leg kicks. Johnson with a nice right hand, and then another on the counter. Right hand from Benavidez takes Johnson off his feet, and Benavidez swarms. He looks for a guillotine. He moves around and gets full mount. He's got it under the chin adn he's cranking on him. Johnson is trying to keep him at bay. And somehow, he survives. And Johnson gets a leg and tries to go for a heel hook. But Benavidez gets out of that and gets back on top in side control. Johnson, though, spins out of a possible choke attempt from Benavidez and gets back to his feet. Benavidez looks to go back to the ground, but Johnson winds up on top. Johnson can't keep him there, though, and they go back to the feet. Johnson quickly drops down for a short takedown, then lands a body kick as Benavidez gets back up. Benavidez throws, and Johnson ducks under with ease and gets a takedown and into side control. It's a tough round to score. But the knockdown and submission attempt from Benavidez have him 10-9 on the MMAjunkie.com card.

Round 5 - Body kick from Johnson. Johnson shoots and gets a big takedown. Benavidez is right back up, but Johnson takes him down again. They trade left hands. Good riht from Benavidez. He tries to come inside, but Johnson ducks under again. Johnson again with a takedown, and right into side control. Benavidez works to get back up, and Johnson briefly has his neck. But they go back to standing with 2:15 left. Nice left hand from Benavidez. Johnson with a right hand counter. The crowd boos again with 90 seconds left. Benavidez comes forward, but misses, but then lands a counter. Benavidez looks for a shot, but it's not there. And Johnson looks for one, and it's not there. Spinning backfist from Benavidez misses. Johnson misses a big looping uppercut. Another takedown attempt isn't there for Johnson. And the fight will come to a close. So close. MMAjunkie.com gives the fifth to Johnson 10-9, but has Benavidez 48-47 in the fight. But who knows. Demetrious Johnson def. Joseph Benavidez via split decision (48-47, 47-48, 49-46)
http://mmajunkie.com/news/30656/ufc-...ve-results.mma
---
Currently Active Users Viewing This Thread: 1

(0 members and 1 guests)
Posting Rules

You may post new threads

You may post replies

You may not post attachments

You may not edit your posts

---

HTML code is Off

---