vBookie Event

: Michael Bisping vs Brian Stann (UFC 152)
This event is over.
UFC 152: Michael Bisping vs Brian Stann
---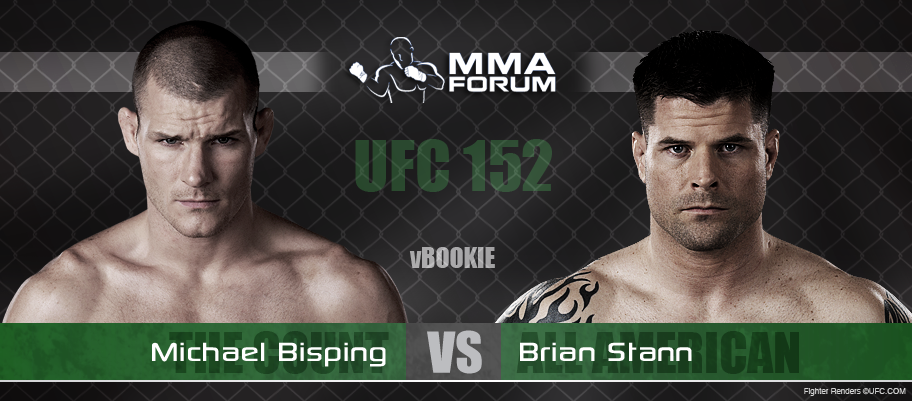 ---
meh, ill go with bisping hes no slouch, should be able to beat stan. although i dont know where the win puts him as far a title shots go.
---
JUST SCRAP

Join Date: Apr 2010
Location: Following The Path To Jesus Set By His Disciple Vitor Belfort
Posts: 5,111
Surprised that Stann is the underdog. i thought it would be pretty even.

Oh well, more credits for me.

Join Date: May 2008
Posts: 11,322
Stann isn't gonna last the 3 rounds, he's getting layed out. 200k on Bisping
---
Join Date: Oct 2009
Location: UK... Where the sun never shines.
Posts: 11,553
Bisping is the more technical striker and I think his tdd is too solid for Stann to be able to keep him down for any amount of time.

I don't see Bisping finishing him though. Stann will need a KO to win IMO.
---
"I fear no man, but Jim Harrison and Mike Stone are the two last men that I would wish to meet in an alley fight. Jim Harrison's fighting style is not flamboyant or spectacular, it's just simple and deadly!" - Bruce Lee sakurabushidokan.homestead.com
890 000 on Bisping. I think Bisping is the far superior striker. Bisping will also use his footwork which is also far superior (haha yes I know he walked into an H-bomb
).
---
mad props: Toxic
Bisping really should take this, he's comfortably the more skilled fighter. Stann is a powerhouse though if he lands something big...

Got to pick Bisping though, it's the sensible choice. Would love to see him have a crack at Anderson.
---
I'm gonna go with Bisping. Should be a rather easy win for Bisping, if his chin holds up.
---
Anderson Silva ♔
Aldo - Dos Anjos - Mayday - Weidman - Machida - Jones
Currently Active Users Viewing This Thread: 1

(0 members and 1 guests)
Posting Rules

You may post new threads

You may post replies

You may not post attachments

You may not edit your posts

---

HTML code is Off

---