vBookie Event

: Travis Browne vs Antonio Silva (UFC on FX 5)
This event is over.
UFC on FX 5: Travis Browne vs Antonio Silva!
---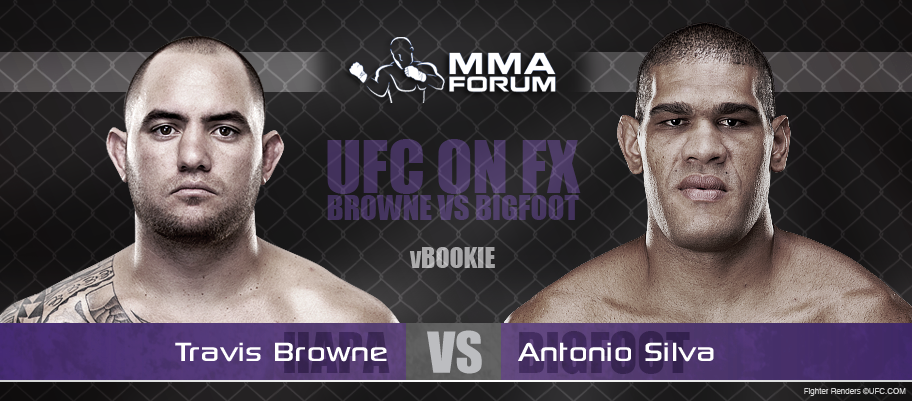 ---
---
Last edited by Killz; 10-03-2012 at

10:15 AM

.
Big opportunity for Browne kind of a lose lose fight for Silva. He should be able to handle Browne I would think.
---
sakurabushidokan.homestead.com
I think Browne stops Silva and enters the top end of the division, don't fancy him to crack the top 4 but he'll be a fearsome gatekeeper to that group. Right circumstances might see him in a title shot one day but on paper he is simply not as good as JDS, Reem, Cormier, Velasquez.

Physically very scary and good enough of a fighter to defeat Antonio IMO, odds are about right.
---

Join Date: Apr 2010
Location: Following The Path To Jesus Set By His Disciple Vitor Belfort
Posts: 5,111
Bigfoot tries to stand with Browne then he gets knocked out but i'd image after getting his ass whooped twice in a row he will look to take it to the ground where he should maul Browne.
Great odds for Silva. I'm tossing my Struve winnings on him. I think he has way more experience vs top competition and will take him down for the sub. 1 million on Silva. Let it ride baby.
---
mad props: Toxic
I'd normally bet on Silva, but Browne keeps proving me wrong.
Featherweight
Join Date: Apr 2012
Posts: 1,444
I like Browne to win, but I like these odds for Silva. Gonna place a small bet on the big head.
Quote:
Round 1 - Referee Herb Dean oversees the evening's main event. Silva with his hands high to open, and Browne fires a heavy overhand. He misses on a spinning kick and nearly walks into a straight. He's fighting fast and loose to open. Silva walks forward and misses on a straight right. Low kicks for Silva.Browne kicks at the knee and then throws another bog overhand right. Silva pushes in and nearly eats a knee. He pushes forward into a clinch. Browne reaches over the cage and receives a warning. Still, it keeps him upright. Halfway mark as they separate. Big punches traded simultaneously, but either man goes down. Another series is traded, and Silva lands flush with a right.Browne is wobbled, and Silva pushes him to the floor. Silva follows with heavy hands on the ground, and Dean halts the fight. Silva is elated at the much-needed win. Antonio Silva def. Travis Browne via TKO (punches) - Round 1, 3:27.
http://mmajunkie.com/news/30926/ufc-...ve-results.mma
---
Currently Active Users Viewing This Thread: 1

(0 members and 1 guests)
Posting Rules

You may post new threads

You may post replies

You may not post attachments

You may not edit your posts

---

HTML code is Off

---