vBookie Event

: Bart Palaszewski vs Diego Nunes (UFC on FX 5)
This event is over.
UFC on FX 5: Bart Palaszewski vs Diego Nunes
---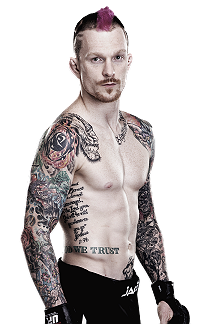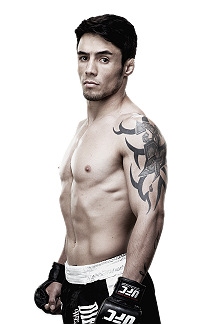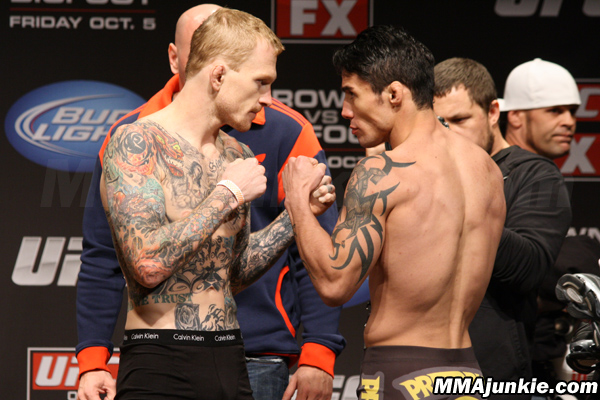 ---
Quote:
Round 1 - Referee Daryl Guthmiller in the cage for this featherweight matchup. Nunes scampers forward and looks quick to open. Big right connects, and Palaszewski scrambles back. Nunes follows with punches before Palaszewski ties him up. Nunes looks for a big slam takedown, but Palaszewski locks in a guillotine choke on the way down and settles into guard. It looks tight, but Nunes pops his head free. Palaszewski gets his left leg on the shoulder and looks for the triangle choke. He can't quite lock it up, and Nunes presses down. He eventually breaks the legs apart and postures. Halfway mark, and Nunes is landing big elbows form the top. Nunes stands and tries to control the legs. He dives in with a punch that misses, and Palaszewski scrambles up to his feet. Ninety seconds left. Nunes scores with a huge shot that sees Palaszewski fall to his back. Guthmiller lets them fight and Nunes follows for the finish. Palaszewski scrambles up to his knees after absorbing that huge shot. He turns again to his back. Nunes tries to punch through his legs, but Palaszewski does a good job of pushing him away. Nunes makes it through in the final seconds and finishes on top. Good opening round, and MMAjunkie.com gives it to Nunes, 10-9.

Round 2 - Early lead hook scores for Nunes. Leg kick follows. He is extremely comfortable.Left hand low for Nunes, and Palaszewski tries to capitalize, but his opponent stays away. Overhand right lands again for Nunes, and Palaszewski's left cheek is swollen. More hooks land flush for Nunes, who is just teeing off. He moves into the clinch, and a trip brings the action to the floor. Palaszewski in guard until Nunes postures and dives in with a punch. As Palaszewski tries to work to his feet, Nunes scrambles to the back. He wants to lock in the hooks, but Palaszewski defends well, and they reset in the center of the cage. Palaszewski bleeding above his left eye, but he's still looking to return fire. Another right hand scores for Nunes. Palaszewski works his best combination thus far, but he eats a spinning backfist shortly after. Palaszewski moving forward, but there's not much head movement, and Nunes is countering incredibly well. Palaszewski kicks to the leg, but Nunes catches it and pushes him to the floor. he can't capitalize before the bell, but he takes another round on the MMAjunkie.com card, 10-9.

Round 3 - Touch of gloves to open the third. Leg kick from Nunes opens, and he scores with another overhand right. Palaszewski is going to need a finish, and he is moving forward and looking to strike. He lands with a left, and a high kick is blocked, but Nunes looks a little wobbly. Nunes looking for a takedown, but Palaszewski is shucking them off. Could the momentum be turning? Crowd thinks so as they come to life in support of Palaszewski. He lets off the fas a little, and Nunes looks to be recovering. Two minutes in. Pace has slowed in the final five minutes. Nunes looks content to coast right now. Punches traded on the outside. Nunes eats a counter, but he's recovered well from the earlier action. Nunes shoots in again but is unsuccessful. Palaszewski putting a few combinations together, but he doesn't have much zip left in those strikes. Nunes bleeding from the cheek. He does land a straight right that seems to hurt Palaszewski. Kick to the body scores shortly after, and an overhand drops Palaszewski again. Nunes tries to finish, but it won't come. Still, he takes the third on the MMAjunkie.com card with the late action, and he wins the fight 30-27. Diego Nunes def. Bart Palaszewski via unanimous decision (30-27, 29-28, 30-27).
http://mmajunkie.com/news/30926/ufc-...ve-results.mma
---
Currently Active Users Viewing This Thread: 1

(0 members and 1 guests)
Posting Rules

You may post new threads

You may post replies

You may not post attachments

You may not edit your posts

---

HTML code is Off

---