vBookie Event

: Luiz Cane vs Chris Camozzi (UFC 153)
This event is over.
UFC 153: Luiz Cane vs Chris Camozzi
---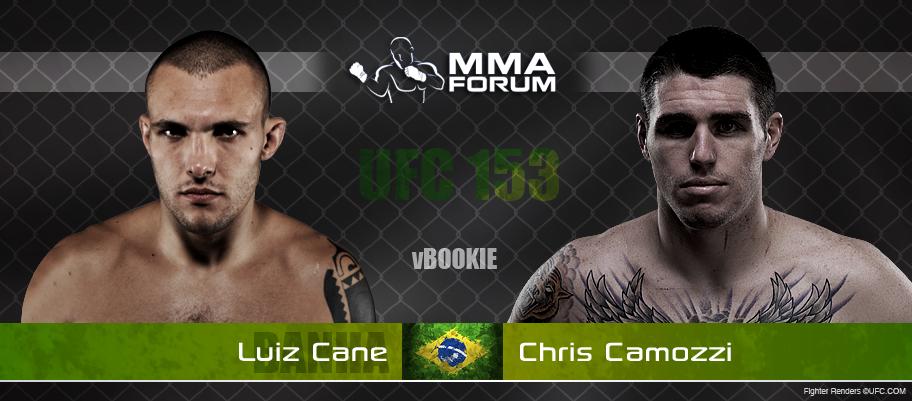 ---
Quote:
Round 1 - Referee Marc Goddard oversees the cage for this middleweight fight. Dueling southpaws meet in the center. Camozzi pressing forward, and he looking for openings, but Cane covering well to start. Cane looks a little hesitant to start though he picks up the pace about a minute in. Camozzi catches a kick, but Cane slips around to his back and grabs his waist before dumping him to the floor. He gets his hooks in right away and looks for the rear-naked choke. Camozzi keeping his chin tucked. Cane lets go of the choke and looks to adjust. Camozzi survived, and they scramble up to the feet and reset just past the halfway mark. Camozzi settles back into his groove and lands a few jabs and straights. Cane is there to answer, as well. Overhand left staggers Camozzi, but he shakes it out quickly. Back-and-forth exchanges, but Cane seems to be getting the better of them. He looks light and quick, thought he is breathing heavily. Right lands to the neck for Cane, who takes the round on the MMAjunkie.com card, 10-9.

Round 2 - Camozzi the aggressor to open. Cane circling to avoid damage as Camozzi works straight punches with low kicks to open well. Cane sitting down on left hands as Camozzi tries to counter with volume. Kick to the body for Camozzi. Cane moving well on the outside, but Camozzi is beating him to the punch right now. High kick blocked by Cane. Halfway mark, and Camozzi doesn't have a ton of zip in everything he's throwing, but he is pressing forward. Camozzi landing with low kicks, and he misses a few short elbows. Cane hasn't landed a real power shot this round, but he's bouncing and moving and seems to have gas in the tank. But Camozzi grinding away in the final minute. Camozzi looks for a takedown and nearly falls into a guillotine. He pulls away and looks to trade. Kicks at the end, and MMAjunkie.com sees the second for Camozzi, 10-9.

Round 3 - Cane takes the center again, but Camozzi reclaims it right away and pushes forward with strikes. Camozzi has some tape hanging from his glove, but we fight on. Crowd wants some action. Cane with an inside leg kick. He just misses on a combination as Camozzi retreats and answers with of his own punches. Nice left for Cane, whose nose is reddened and has a sponsor patch coming off of his shorts. Uppercut and low kick for Camozzi. Halfway mark of final round, and fight could be decided here. Camozzi busy with his hands. He counters over a low kick. Cane shoots in but is stuffed. Two big lefts for Cane, but Camozzi slips out and is fine. Inside leg kick for Camozzi. Cane the one pressing in, but Camozzi is answering. Another takedown attempt for Cane is stuffed. Blood gushing from Cane's nose, and he staggers after taking a punch off-balance. Traded punches at end, and it's a close final round. MMAjunkie.com sees a tight third for Camozzi, 10-9, and awards him the fight 29-28. Chris Camozzi def. Luiz Cane via unanimous decision (29-28, 29-28, 29-28).
http://mmajunkie.com/news/31045/ufc-...ve-results.mma
---
Currently Active Users Viewing This Thread: 1

(0 members and 1 guests)
Posting Rules

You may post new threads

You may post replies

You may not post attachments

You may not edit your posts

---

HTML code is Off

---